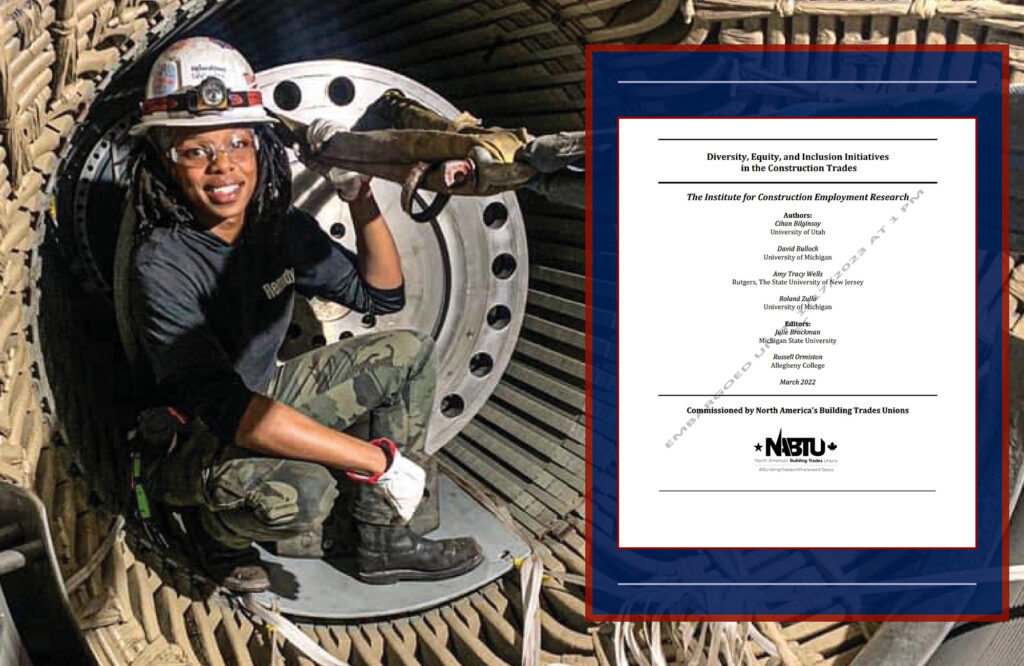 The percentages of women and Black and Latino workers signing up for union-affiliated registered apprenticeships are significantly higher than the percentages of those workers joining non-union apprenticeships, according to a study by the independent Institute for Construction Economics Research.
The research, which is the first of its kind, was commissioned by North America's Building Trades Union and released in January. Study authors analyzed data on construction apprenticeships in 34 states between the years of 1999 and 2019.
In 2019, women made up 2.4% of non-union apprenticeship registrations compared to 4.8% of union apprenticeship registrations. Also in 2019, non-union apprenticeship registrations consisted of 7.9% and 22.5% Black and Latino workers, respectively, while those populations were represented in union apprenticeship registrations at 9.6% and 29.4%, respectively.
These study results indicate the desire legislators expressed to increase racial and gender equity in the construction industry through the bipartisan infrastructure law can be met by staffing projects with union workers. Under the infrastructure law, some projects will be funded through a competitive-grant process that favors applicants that: commit to utilizing a workforce that includes underrepresented groups and apprentices in registered (usually union-affiliated) programs; using equity-focused hiring policies; and following agreements outlining fair wages and benefits. An executive order that President Biden signed in February 2022 requiring project labor agreements on federal construction projects costing more than $35 million also encourages the use of a union workforce in building, maintaining, and updating the nation's infrastructure.
"With the work that the administration and the Congress has done over the last couple of years, we have a phenomenal amount of opportunities for the next 10 to 15 years to lift tens of thousands of people … into the middle class through our apprenticeship readiness programs and then our registered apprenticeship programs," NABTU President Sean McGarvey told Politico. "We've got to work a little harder and dig a little deeper to attract the kind of people that are looking for these opportunities."
During the 21-year study period, union apprenticeship programs made up approximately 75% of all apprenticeship programs. The union percentage peaked during the Great Recession and fell to its lowest percentage — 67 percent — immediately after the recession.
Read the full study here.