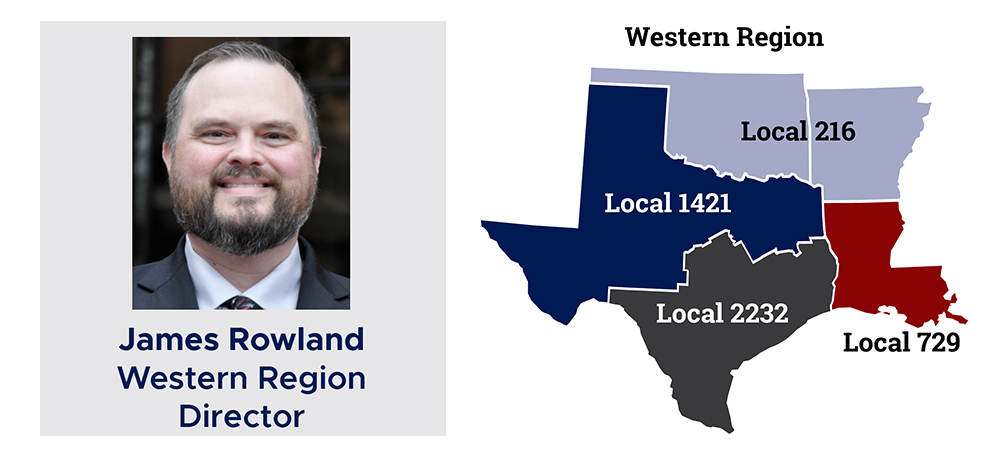 The Western Region of the SSMRC has another extremely booked spring season.
Local 216
In Arkansas and Oklahoma, we are picking up more hydro power work with Andritz. There are two major projects in Eastern Arkansas coming up with an expansion at Big River Steel and the construction of a new acid treatment facility to provide services to the mill. There is still ongoing work with Walbridge on the Walmart centers and maintenance work at the paper mills.
For more information, contact Donnie Newton (405) 602-3076 or Matt Nowlin (479) 967-0639
Local 1421
In North Texas, the power generation work is going to explode this spring. While some projects have already started, most of the work will begin in February and March. There will be consistent turbine work from February through April. We are also expecting to finally start the major expansion at the DFW airport. All-Tech has also landed a huge project that may last more than a year with Lockheed Martin. Finally, with the CHIPS Act kicking in funding for American manufacturing of computer chips and electronics, we are looking at the possibility of several projects in the Dallas area with companies like Texas Instruments and Globitech.
San Antonio / Austin / El Paso
In the Central and West Texas area we have work coming up in El Paso at Smucker's and we are about to kick off our Turbine season with several Turbine Pro's projects. We have ongoing work at Samsung, Toyota, and FedEx as well as small projects around the Austin area. Along with North Texas the CHIPS act should provide several opportunities for our contractors to work on the new construction of electronic chip manufacturing facilities and expansions in the upcoming season.
For more information, contact Thomas Brown (817) 784-1421.
Local 2232
The Texas Gulf Coast has not slowed down and will continue to speed into the spring. There is ongoing work and upcoming work at Exxon Baytown, Exxon Beaumont, Exxon Mont Belvieu, Lyondell Corpus Christi, Chevron Cedar Bayou, and Motiva Port Arthur. As usual, the petrochemical industry is booming. There are also several turbine jobs scheduled with NRG and Calpine. There is still ongoing work at the airport has slowed down slightly until the next phase of the project kicks off.
For more information, contact Victor Sanchez (713) 649-0333, Dwight Murrah (281) 468-1035 or Monte Thompson (713) 649-0333.
Local 729
Louisiana is coming off one of the best years they have ever had, and work is still looking good this spring. There has been work already kicking off in the petrochem sector with work at WR Grace, Exxon Baton Rouge, and Shell Norco. There are two major papermill projects coming up with Milton J Wood and CR Meyer that will put over 100 millwrights to work. There is also upcoming work at Big Cajun 2 and a major LNG project with APM. As we get further into the season, we expect more power generation work and petrochemical work to pick up across the state.
For more information, contact Mike Hines (713) 305-5477