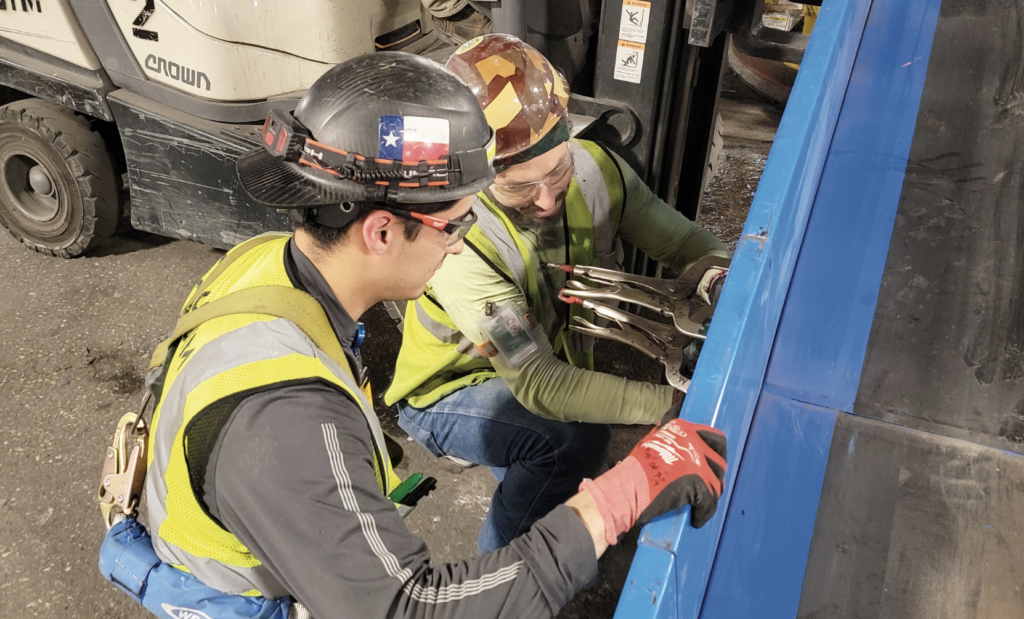 Union millwrights have been instrumental in a multi-year project to install a high-tech baggage-handling system at George Bush Intercontinental Airport in Houston that is the first of its kind in the Unites States.
The technology United Airlines is having installed in Terminals C and E has been used in airports in Dubai and South Korea. It improves bag-scan accuracy by 25%, can reroute bags without manual intervention, and significantly increases system speed, making luggage retrieval faster for travelers.
"The old system lost or missed scans on more than 20% of the bags," said James Rowland, Western Region director of the Southern States Millwright Regional Council. "After four months, the initially completed section handled over 250,000 bags and had an accuracy rate of over 99%. It only lost four bags."
Millwrights from the SSMRC were on site when the first phase of the $190-million project kicked off in May of 2019, and they will be working on the project until phase three's completion, which is slated for October of 2025. Contractor Jordim International Inc. is regularly employing 55 union millwrights who are installing more than six miles of Siemens conveyor equipment as part of the new baggage-handling system.
Conveyors can run at speeds of up to 340 feet per minute, allowing the system to process 10,000 bags per hour. Phase one equipment began operating in December of 2020, phase two was completed in August 2022, and phase three is in progress.
Millwright work scope
As part of phases one and two, millwrights demolished the previous baggage-handling systems in Terminals E and C, respectively, then laid out and installed the new, faster sortation system and conveyors.
"It's a great big undertaking," said Mike Ibberson, a millwright jobsite steward and member of Local 2232. Phase one took up space that was half the size of a football field, and phase two was the size of a football field.
"The whole reason we're here is to install the latest technology," said Shawn McKee, site manager for Jordim and a member of Local 1421 who has served as president and business agent for the local. "Then they can speed the bags up so everything happens faster. So instead of waiting 45 minutes to get your suitcase now it can get there in 20 minutes."
During phase 3 of the project, millwrights are installing conveyor systems outdoors, at all four corners of Terminal C. These systems will transport luggage from planes to the inside of the building and the main baggage-handling line without the need for airport workers to drive carts loaded with luggage indoors and manually unload them, McKee said. New canopy-style roofs will cover these outdoor conveyor systems.
"We're in the process of building eight real long conveyors that come in from outside down these tunnels and then tie into the sortation system," McKee said.
In addition, millwrights are building the conveyors that feed bags to and remove them from a new storage area that can hold 3,300 bags. They also helped move equipment in a new, computer-filled control room that is the brain of the entire system that moves luggage from ticket counters to X-ray machines then to the sortation system, where devices scan tags and cameras photograph bags before diverters kick each piece of luggage to the correct conveyor based on its destination.
One advantage of the new system is that operators can increase and decrease conveyor speed as needed via computers instead of manually at various points, Ibberson said. Because physically changing speed took time, bags could pile up in some areas before the needed adjustment was made. With the new system, conveyor speed ranges from half a mile per hour to three miles per hour.
The new conveyor system is improving baggage handling in more conventional ways, too, Ibberson said. The old system was built in the 1990s and was worn out, he said. Parts of it included tilt trays that were prone to errors. "If the bags didn't fall on that tilt tray just right, they would fall off," Ibberson said. "They had nets everywhere to catch bags. Those bags were falling off left and right. This system is all contained and moving in one direction and a whole lot more reliable."
Technology and pandemic hurdles
While the mechanics of the new conveyor system are virtually the same as those of older systems, the electric motors and controls are different. Millwrights are installing the gearboxes and motors, which mount differently on the new system.
Representatives from SEW-EURODRIVE, the German manufacturer of the motors, teach classes for the millwrights on how to install the motors.
COVID-19-related material shortages and delivery delays have plagued the project, but millwrights have helped keep it on schedule. "We've had to do some innovative stuff to get there," McKee said.
That includes working in one area until materials run out, then moving to another area and doing as much as possible there. "Sometimes we'd have to do that three or four times before the material showed up for the original area," McKee said. "It's a lot of skipping around, and that's not efficient. Normally we start at point A and we go to point B."
Implementing COVID safety protocols, which Jordim is still following, has taken time as well. The protocols include hand washing, spreading out seating in the break room, sanitizing tables, and requiring doctors' releases and negative COVID tests before those who have been sick can return to work.
Other project hiccups have been typical of conveyor layout and installation. Millwrights have had to modify equipment layouts and installations occasionally to account for obstacles engineers missed. For instance, Ibberson said, millwrights had to work around a spot where the ceiling was 18 inches lower than the engineering drawings showed.
Learning opportunity
Because the petrochemical industry is the dominant employer of millwrights in the Texas Gulf Coast region, a large conveyor project presented both challenges and opportunities for area millwrights.
Ibberson, for example, is a seasoned journeyman but had only spent three days on a conveyor job before starting work at the George Bush International Airport in July of 2019. When he learned about the project at the airport, which is only a 15-to-20-minute drive from his home, Ibberson said he thought, "This is going to be one heck of an opportunity to pick up another skill set." He knew that once the airport project was over, he would be able to use his skills at a nearby Budweiser plant that periodically needs millwrights.
It turned out the learning curve wasn't that steep for Ibberson. "It's all just basic mechanic work – making sure you put everything exactly where it's supposed to be," he said. "The art of being a millwright is putting hundreds of tons of stuff within a 1,000th of an inch of where it needs to be."
Apprentices are benefitting tremendously from this job, both Ibberson and McKee said, because it gives them the opportunity to practice many different millwright skills.
"This is almost an ideal job for a brand new apprentice to learn on," Ibberson said. "It gets them acquainted with different hand tools, different standards, learning how to read a simple set of prints, sometimes more complicated prints, trying to figure out what the engineer is looking for."
About 25 percent of the millwrights on site are apprentices, and McKee pairs two or three apprentices with four or five journey-level millwrights on each crew. Siemens, the manufacturer of the conveyor equipment millwrights are installing at the airport, donated used conveyor pieces that McKee delivered to the local training center, which is using them in conveyor classes. "My selling point to Siemens to get the material was if they learned anything at the school, they would be one step ahead when they come out here," McKee said.
Many apprentices who have trained on the Siemens-donated equipment have transitioned to the airport jobsite.
Being able to install conveyor systems that are the first of their kind to be used in the United States also is an advantage to the SSMRC and all millwrights working on the project, McKee said. "When we start that project at DFW next year, I'll already know what kind of stuff we're installing because it'll be the same exact equipment," he said. "It definitely helps being on the bottom floor.
Contractor relationship
As the conveyor-equipment manufacturer, Siemens has a direct contract with United Airlines. Jordim, an all-union company that mainly employs millwrights, is contracting with Siemens to install the equipment. Based in Miami, Jordim has conducted work across the United States, in the Caribbean, and in South and Central America. The company specializes in installation and maintenance of baggage-handling systems, passenger boarding bridges, and parcel-sortation systems.
The SSMRC has partnered with Jordim since the council was founded in 2010, and locals within the council have worked with Jordim since the company's launch in 1993.
McKee said Jordim's owners have a great relationship with the SSMRC. Ibberson, who had not worked for Jordim before the George Bush Airport project, said he would like to work for the contractor again.
The next opportunity for SSMRC millwrights to work for Jordim will be at the Dallas/Fort Worth International Airport project that McKee mentioned. A similar number of millwrights will be needed for an eight- or nine-year project to rebuild terminal buildings and upgrade the baggage-handling system.