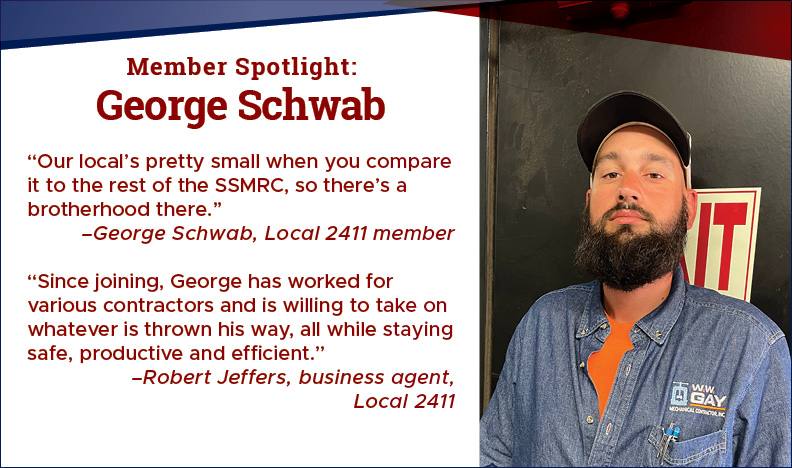 George Schwab, a millwright apprentice in Local 2411, has been a member of the SSMRC since June of 2020 after taking advantage of the Helmets to Hardhats program to ease his transition into a construction career after serving in the military.
Local 2411 Business Representative Robert Jeffers said Schwab hit the ground running after he joined the union following his service.
"Since joining, George has worked for various contractors and is willing to take on whatever is thrown his way, all while staying safe, productive and efficient," Jeffers said.
Schwab joined the union through Helmets to Hardhats, which connects transitioning active-duty military members, veterans, National Guard and Reservists with training and career opportunities in the construction industry.
He spent six years in the U.S. Army and worked as a mechanic while he was serving, and said was drawn to the millwrights because of the pay and benefits he could receive while working in the union.
So far, his time in the union has been a successful one.
"I can't complain," he said. "It's treated me well."
Schwab said he has mainly worked with W.W. Gay, a contractor in the Jacksonville, Fla., area, and he has worked on paper machines, motor alignments, motor rebuilds, and some conveyor work, and he also helps out with pipe fitters and iron workers when needed.
A lot of that work is around Jacksonville, but he has traveled into South Georgia and Central Florida and towards the Gulf Coast over the past couple of years.
Schwab worked a few jobs after high school before deciding to join the army at the age of 21, and said the army could almost be considered a union on its own.
While the level of camaraderie as a union member isn't quite the same as the military, that sense is still there among the members of Local 2411.
2411 is the smallest local in the council, but there is still a camaraderie there that could be considered similar to the one he had in the army, Schwab said.
"Our local's pretty small when you compare it to the rest of the SSMRC, so there's a brotherhood there," he said.
When he's not on the job, Schwab has a small herd of cattle that he is trying to grow, and he likes to get out and fish when he gets the chance. He and his wife also have a two-year-old son, and that keeps him nearby while he's working.
"I'm not a big traveler," he said. "I like to stay close to home for the most part."
Schwab said he was stationed in Texas while he was in the army, and he and his wife have discussed going back there in the future, but he also likes where he is and what he is doing.
"Just simple," he said. "That's what I'm looking for is a simple life."