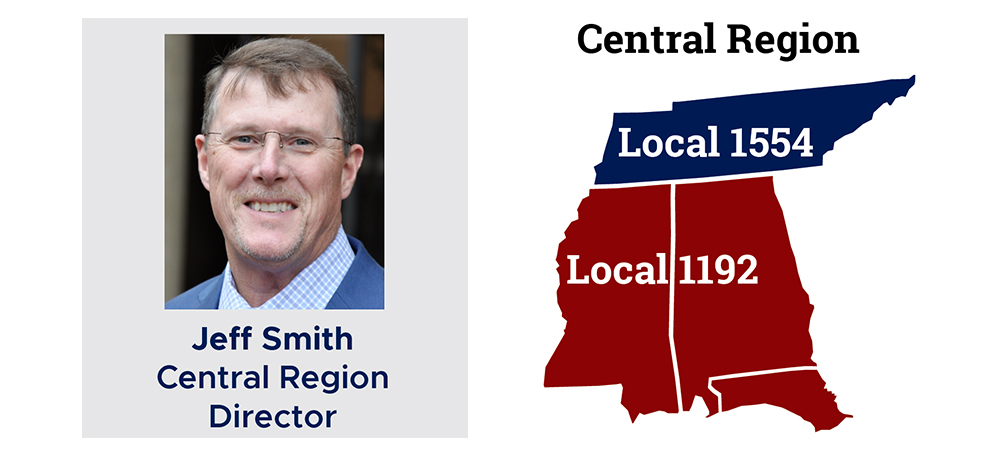 Spring outage work was very busy for our members across the Central Region. Work is starting to slow down a bit for the summer, so now is a great time to take advantage of training and enhancing your skillsets. 
Bottoms up organizing is a great way of recruiting within our organization, and if you know of anyone available that is mechanically inclined and wanting a lifelong career then organize them!
Put the individual in touch with your local business representative and lets get them to working. We are in need of new members as more working opportunities present themselves across our region.
Millwrights are in high demand across our 11 state footprint as we have more work than we do members, now is a good time to organize!
Please reach out to your business agent and put yourself on the out-of-work list if you are available for work. If you are traveling outside of your home local jurisdiction for work, check in with the local that has jurisdiction where you are procuring work.
Please take advantage of all opportunities to enhance your skill sets (forklift, welding, aerial lift, rigging) through the training department. As always, let's do things right the first time, on time, every time while being safe, professional, and productive!
We are working with the following contractors at the listed facilities.
Local 1192:
Toyota Tupelo is gearing up for holiday outage work and should be needing 40-50 Millwrights.
At the Toyota engine plant, J&J and Elk River Mechanical will both be needing millwrights for their upcoming outages as well
Griffin Industrial will be looking for approximately 10 millwrights for the upcoming Toyota Mazda outage work.
Plant Ratcliffe is currently underway with their outage with Siemens and Power Generation Services.
Siemens has recently kicked off their project at R.D Morrow while APM has begun Entergy Choctow.
In Hattiesburg, Miss., Western Industrial is gearing up for a Post Office project to begin June 13. If you are interested please call Clint Smith 205-789-9299.
NKC has a fourth of July outage coming up at Nissan, Canton. Please call Lessie Roberts if you are interested.
National Steel City is gearing up for a capital project installing a new melt shop to start July 1 at Calvert Steel Mill and will be looking for 50-60 Millwrights. Please put your name on the out-of-work list and call Lessie Roberts if you are interested in this project.
Local 1554:
The Springhill, Tenn., General Motors, and the new battery plant projects are well underway and are going well.  
ASI continues with their project at General Motors and is expected to last for six more months
Ford's Blue oval city project is currently underway with their civil and underground utilities.
Shimmick Construction is currently working at the Chickamauga Lock & Dam.
Remember, organizing is an effort by all and if you know someone who is a good fit for our organization have them get in touch with your local agent.