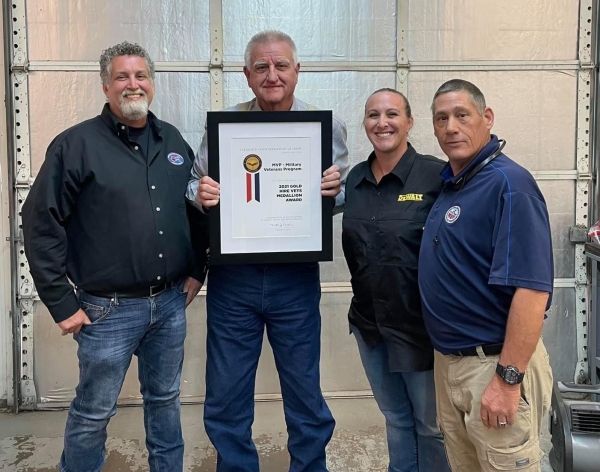 The UBC's Military Veterans Program is wasting no time prepping our nation's heroes to hit the ground running as professional union millwrights or carpenters once they complete their military tours.
The Military Veterans Program is designed for soldiers transitioning out of the U.S. Army at Fort Hood in Killeen, Texas. Fort Hood has the largest number of transitioning soldiers of all U.S. bases – more than 900 per month. Program participants take part in a free, eight-week training program, which gives military vets the basic skill set of a first-year apprentice and includes hands-on projects for real-world experience. Once civilians, these veterans join a Southern States Millwright or Central South Carpenter local union and begin working.
When the program started a few years ago, it was only for millwrights and quickly became the No. 1 program of its kind at Ft Hood. At the start of 2021, a carpenter program was launched alongside the millwright tract. Millwrights and carpenters train together for the first half of the program for common core training such as OSHA 30 and first aid. They then break into either millwright or interior-systems carpenter training for the remaining four weeks.
The program is so successful at getting military veterans into the civilian workforce that the U.S. Department of Labor recognized it with a 2021 Hire Vets Gold Medallion Award.
"We are so proud to be part of a program that was recently recognized for its effectiveness," said Paul Jones, executive director of the Central South Carpenters and Millwrights Training Trust Fund, which administers the program. In 2021 alone, 39 retiring soldiers graduated from the program. That number is expected to continue climbing.
The program also is receiving a Labor Department grant to assist military service members and their spouses dislocated by pandemic-caused delays. Through this grant, 39 MVP graduates received $1,500 each to purchase tools in 2021. In 2022, graduates will get $1,500 for tools and the program will receive $2,750 per graduate.
Texas Gov. Greg Abbott also recognized the effectiveness of the program. He sent a letter to program administrators that read, in part:
"The often-used slogan for the Lone Star State's approach to commerce is that 'Texas is wide open for business.' This openness and dedication to inclusivity in business is a testament to the fact that our economy works best when everyone is welcome, especially the hardworking men and women who have served our country in the armed forces. Through your efforts to help veterans succeed in their careers, our robust Texas workforce continues to grow stronger. Companies like yours remain the backbone of our economy, and we must never forget that our state and nation will continue to be strengthened by the full participation for workers from all backgrounds. At this time, I commend you for your dedication to ensuring that our veterans have access to ample employment opportunities and helping them find their place in the Texas workforce. Together we will build a better and brighter future for the Lone Star State."
Learn more about the program at www.ubcmvp.org. Read about a recent graduate of the program here.
2021 MVP graduating classes: