Jeffery Phillips has successfully transitioned from the Army to the millwright trade and has brought his love of learning with him.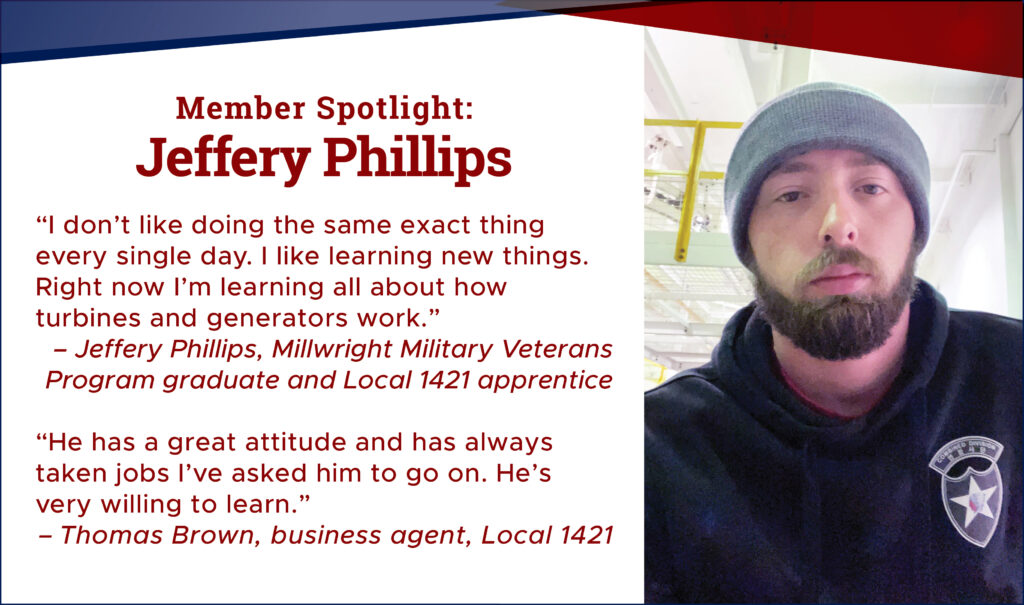 Jeffery Phillips, a recent graduate of the Millwright Military Veterans Program, has experienced a crash course in on-the-job training since he transitioned out of the Army in August. He's currently working on generators and turbines at a power plant near Dallas, and before that he was part of the millwright team installing robots and conveyor equipment at the Tesla Gigafactory near Austin, Texas.
Phillips, a member of Local 1421, said he likes the variety of work millwrights do and the continuing opportunities the career offers to expand his knowledge. "I don't like doing the same exact thing every single day," he said. "I like learning new things."
Thomas Brown, business agent for Local 1421, said Phillips' willingness to learn is one of the reasons he selected him for the Southern States Millwright Regional Council's Member Spotlight. "He has a great attitude and has always taken jobs I've asked him to go on," Brown said.
Phillips said the Millwright Military Veterans Program at Fort Hood in Texas prepared him well. The free, eight-week training program allows military members to begin taking classes before they are discharged, creating a smooth transition from the military to the millwright trade. MVP graduates enter the four-year millwright apprenticeship program with at least one year of credit. After taking a placement test, Phillips started the program as a third-year apprentice.
He said his military occupational specialty as a utilities equipment repairer provided a foundation for learning millwright skills. The Millwright MVP is aimed at military members with construction or mechanical occupational specialties. During his four and a half years in the Army, Phillips was stationed in Virginia, South Korea, and Texas, and he worked on trucks, Humvees, trailers, tankers, and more.
He said he knew that when he left the military, he wanted a career that would continue providing excellent pay and benefits for him, his wife Taylor, and their children, 6-year-old Ryker and 4-year-old Adlee. "I always heard the benefits were good," Phillips said. "There's always work. I've always wanted to get into something like this, and coming out of the Army, it gave me the opportunity to do that."
Before he joined the Army, Phillips earned a certificate in occupational safety and health from Kilgore College in Kilgore, Texas, and then worked in a warehouse for two years. Now, as a millwright, he said his knowledge of jobsite safety and health helps him identify hazards and understand related precautions. He said he hasn't needed to point out safety issues because supervisors have already accounted for everything he's noticed.
Phillips said he is enjoying learning on real jobsites while continuing to take apprenticeship classes, and he has found journey-level mentors to help him along the way. "You get to learn a lot of new things, meet a lot of new people," he said. "The [MVP] classes showed us what we were getting into, but it wasn't near as hard as the actual work, learning this stuff. You get more hands-on out in the field."
The mentorship experience in the union is similar to that in the Army, Phillips said. "Everybody learns differently, and everybody teaches differently," he said. "So I stick to the ones that I'm more like. It's been a good experience overall."
Phillips approaches his work with an easy-going, can-do spirit. "I think I bring a good, positive, motivated attitude," he said. "If something doesn't go our way, I kind of shake it off and go on about my day and do what needs to get done."