Matt Bartles is helping young people get into good-paying jobs while also combatting a shortage of skilled welding professionals.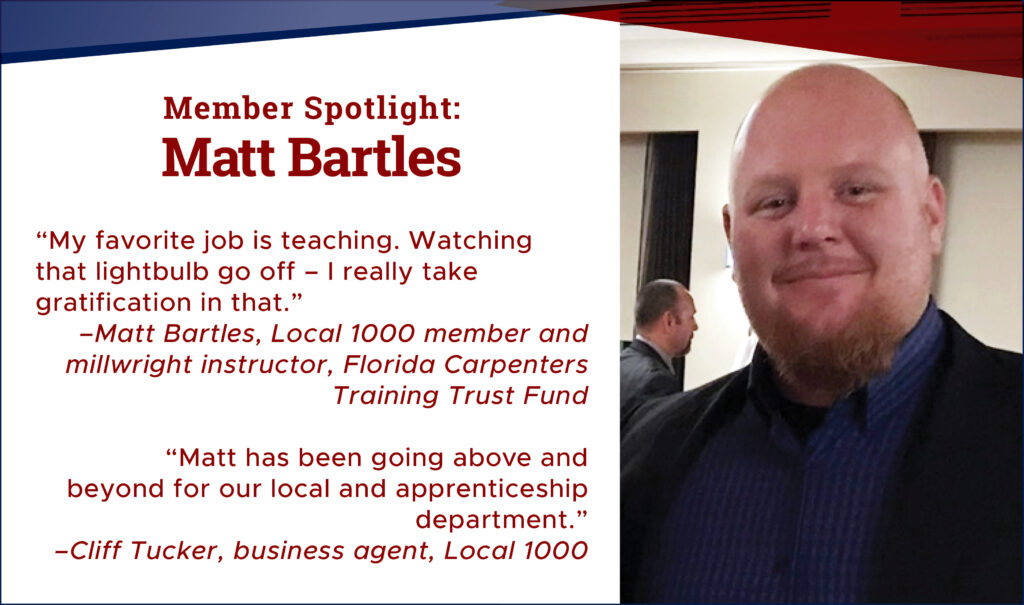 Matt Bartles first heard the term "millwright" from a guest speaker at the technical college he was attending in 2010. A decade later – after completing the millwright apprenticeship, working in the field, and becoming a millwright training instructor – Bartles is the one giving presentations about the millwright career path.
"I've been going around and talking to those students just like the person who came and talked to me," he said.
In a year's time, Bartles has secured partnerships between the Florida Carpenters Training Trust Fund and 15 technical colleges and high schools. "Their goal is to put people to work," Bartles said. "Our goal is to find people." In addition to recruiting apprentices from the schools, the training trust fund supplies staff members to serve on the technical schools' advisory boards. Those staff members offer suggestions for curriculum and certifications and provide feedback on ideas the schools present.
Bartles also has obtained equipment donations for training centers and tool discounts for apprentices. He said helping people get into good-paying jobs with excellent benefits is the primary motivation for everything he does as part of his job.
Journey to a millwright career
Bartles did some welding while working as a deckhand, and that prompted him to switch gears from going to school to be a boat captain to enrolling in Pinellas Technical College's welding program, where he heard about the millwright trade. "I knew that I liked welding," he said. "So I just went to welding school and was kind of playing it by ear."
After graduating, Bartles spent four years in the millwright apprenticeship and then worked as a journey-level millwright. He said he enjoyed the work even more than he expected he would – mainly because of the variety it offered.
"I was a welder, but I wasn't looking through the hood 12 hours a day," he said. "You get to move around and work on all sorts of different machines. I did quite a bit of turbine work, conveyor work, and plant maintenance. The types of facilities were pretty much all over the board, from gas-turbine plants to nuclear plants and airports."
And his welding experience helped him get onto a lot of jobsites. Bartles holds multiple American Welding Society X-ray welding certifications, from sheet metal to 6G pipe. "It really worked to my benefit if they needed welders," he said. "But I really liked not doing it all day every day."
Teaching
While he doesn't have a favorite type of millwright work, Bartles says his favorite job is teaching. "That's the best job, at least for me," he said. "Watching that light bulb go off – I really take gratification in that."
Bartles had been a journey-level millwright for two years when he accepted the opportunity to become a welding instructor at Pinellas Technical College. Three years later, in 2017, he became one of three millwright instructors at the Central Florida Carpenters Training Center in Tampa. Bartles teaches all kinds of millwright classes in addition to welding classes.
"I really wanted to help out people like my teachers helped me out," he said. "I wanted to reach out to these kids and help them get jobs. I blame it on my mom and dad. They've probably had over 150 foster kids come through their home. So I've always been interacting. And now I can draw a lot of the good welders from the college over to the millwrights."
Addressing the skilled welder shortage
Approximately 314,000 new welding professionals are projected to be needed by 2024, with more than 160,000 of the current 750,000 welders approaching retirement, according to the EMSI 2021 Occupation Snapshot Report.
The Southern States Millwright Regional Council needs more certified welders, and Bartles said his welding skills made him an in-demand millwright, even as an apprentice. "I tell all my students, 'Welders are the first ones on the job and the last ones to leave because they pretty much need a welder on every job. And not everybody can weld.'"
Many of the SSMRC's partnering contractors are dealing with the welder shortage. Bartles said one large, nationwide contractor draws 50% of its welders from Millwright Local 1000 in Florida. "We're looking to fill that gap even more," he said.
Partnerships and networking
Bartles said his current goal is to recruit at least one pipe welder from every technical school partnering with the training trust fund. "If we could just load up on welders, then we won't end up having a shortage of welders in the future," he said. "And these students are not just welders. A lot of them have a mechanical background as well."
Bartles' welding-industry involvement is helping him build a network that could help with recruiting as well. He is the American Welding Society's Florida west coast area chairman, awards chairman, and education chairman. He is also a nominee for certified welding inspector of the year in the American Welding Society's Florida west coast section. In addition, he judges local SkillsUSA welding competitions for multiple schools.
Through the AWS Florida west coast chairmanship, which Bartles has held for about a month, he hopes to obtain funding for the Tampa training center, develop more partnerships with technical schools, and spread the word about union-millwright career opportunities.
Equipment donations
Bartles already has attained a donation of $12,000 worth of DeWalt tools for the Florida Carpenters Training Trust Fund and discounts on Snap-on Tools, Matco Tools, Ram Tool, and MSI Viking products for apprentices at the Tampa training center.
In many cases, Bartles simply called the companies, described the training center and apprenticeship, and asked what discounts were available.
Leadership and continuing education
Bartles holds leadership positions with the union and is continuing his education. He is the recording secretary for Local 1000 and is in his second term as a delegate to the Southern States millwrights Regional Council.
Through the United Brotherhood of Carpenters' partnership with Penn State, Bartles is taking classes in facility management and in teaching at the UBC's International Training Center in Las Vegas. He also regularly attends train-the-trainer classes at the ITC.
Hobbies and family
In his spare time, Bartles runs a welding and metal-art business with his father, Ed Bartles. Called Cracker Boy Customs, the company produces metal cutouts of objects including pets, trees, monograms, and other signs.
Bartles and his wife, Dana, have four kids: James, 18, Emily, 17, Timothy, 16, and Natalee, 14. Inspired by his parents' work with foster kids, the couple adopted one of their children.
Timothy is taking welding classes at his high school, and he and Emily's boyfriend recently attended an open house at the Tampa training center.
Looking forward
Noting that industry-leading training provided through the union is free, Bartles recommends apprentices and journey-level millwrights get as much training as they can, including welding certifications. He also encourages members to update their training so they and the union don't get left behind as technology changes.
As for the future of his own career, Bartles says, "I just want to continue instructing and eventually progress through the ranks so I can help out even more."