Mike Hines' goals as a community volunteer and a business agent center on leveling the playing field with educational and job opportunities.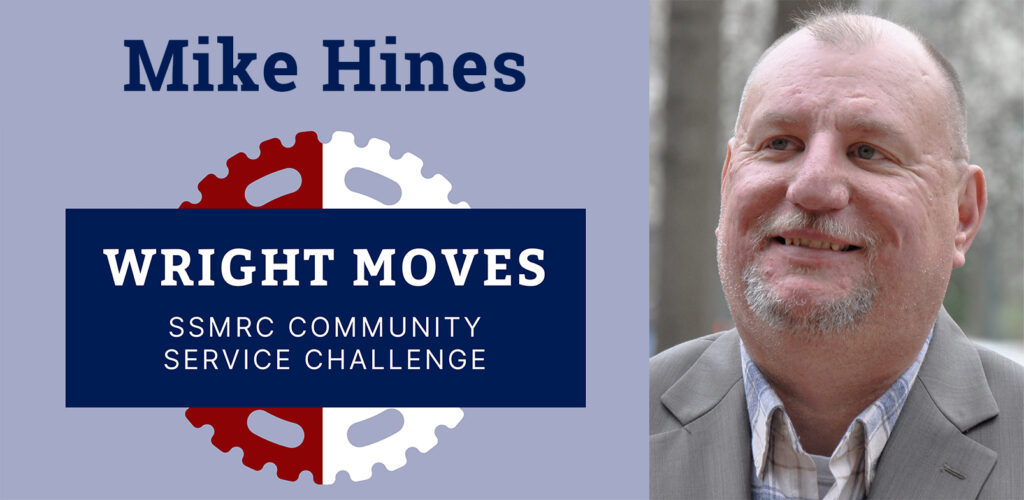 "I feel like I've been very fortunate with my life and what I've been able to do. I really think that we all need to try to help people to help themselves."
The reason Mike Hines enjoys his job as a union business agent is the same reason he has been volunteering in his community since high school. Both undertakings allow him to practice his guiding philosophies: make things better than you found them and help provide equal opportunities.
Through his work as business agent of Local 729 in Louisiana and through many of his community-service efforts in Louisiana and Texas, Hines also aims to assist people – especially those from disadvantaged backgrounds – in attaining well-paying jobs.
"I want them to have a career," he said. "I want people to be able to live above the poverty level. It's a crying shame that we have hunger and we have people who don't even have a high school education in one of the most powerful countries in the world."
Hines' volunteer activities often combine his love of cooking with fundraising for scholarships – both to traditional colleges and trade schools. He leads cookoff teams of four to 15 people at several events that contribute entry fees and a portion of proceeds to scholarship funds. And if he wins any prize money, he donates it back to the funds.
Hines, who grew up in Houston and served as business agent of Local 2232 in Texas before moving to Louisiana in 2016 to take the Local 729 position, supports multiple events that provide scholarships for students in Newton County, Texas, where nearly a quarter of children live in poverty.
"Too many kids don't have anyone who will help them," he said. "If a kid is making a good effort and is trying to do right, we need to be there to help support them, even though they're not our kids. If you help somebody get on their own two feet to make a living, then you're helping somebody to be a solid citizen in society. And that's our goal."
Those who graduate high school in Newton County and go on to get college degrees or trade-school certifications typically earn a good living in the medical field or the region's petrochemical industry, Hines said.
In addition to supporting scholarships, Hines also volunteers at a food bank, holds a neighborhood toy drive in December, and contributes to other fundraisers that help people in need. Read on to learn more about his community involvement.
Go Texan committees / Houston Livestock Show and Rodeo
Hines serves on the Scholarship Committee of the Go Texan organization and has been a member and officer of local Go Texan committees, which hold fundraisers for scholarships and promote the Houston Livestock Show and Rodeo, a 20-day, 90-year-old annual event that is the largest livestock exhibition and rodeo in the world. A portion of proceeds from the event fund scholarships, with more than $25 million per year going to scholarships, grants, and graduate assistanceships in recent years.
Hines has been a member of the Houston Livestock and Rodeo Association for roughly 25 years and always volunteers during the show. "The association's function is to raise money through events from cookoffs and rodeos to dances and auctions for scholarship funds throughout the state of Texas," he said. As part of the Newton County Go Texan Committee, Hines helps with fundraisers for both the Houston scholarship fund and for local scholarships throughout the year. He also cooks as part of the Newton County Go Texan cookoff team.
Hines is involving the Southern States Millwright Regional Council, its members and partnering contractors in supporting his newest volunteer endeavor, Hogs for the Cause, a nationwide program that assists families with children battling brain cancer and hospitals and charities that serve pediatric oncology patients.
Hines will bring a cookoff team to the 2022 Hogs for the Cause annual music and barbecue festival, which draws more than 30,000 people to New Orleans and raises millions of dollars. The council will support the fundraising aspect of the event and is considering setting up a recruiting booth in collaboration with partnering contractors.
Louisiana Shrimp and Petroleum Festival
Hines has been participating in the Louisiana Shrimp and Petroleum Festival since 2010. Entry fees for the cook-off support a scholarship fund for kids in south Louisiana.
Rosevine/Gravelhill Benefit BBQ Cookoff
Hines donates his time at the Rosevine/Gravelhill Benefit BBQ Cookoff, an event that to raise money to help families in crisis and provide scholarships to high school seniors in Hemphill and West Sabine, Texas.
The Chilifest Music Festival is an annual, two-day event in Snook, Texas, featuring musical performers and a chili cookoff. It draws more than 35,000 people each year, and proceeds go to local charities, including the Go Texan scholarship fund. As part of the Newton County Go Texan Committee, Hines helps provide security or other logistical support for the event.
Marine Corps Under the Bridge Cookoff
This event raises money for the Marine Corps ROTC program and for scholarships for kids in the Morgan City, Louisiana, area. Hines brings a team to the event.
Food Bank
Hines and his daughter, Rachel, who's 17, have been volunteering at the food bank in Denham Springs, Louisiana, for the past five years. They work at the food bank during the holidays, help with a spring canned-food drive for the homeless, and help prepare meals occasionally.
"I want my daughter to have the realistic idea that life is not always fair," Hines said. "And that everybody needs to be grateful for what they have, and you need to try to help the people that don't have the things you do."
Various fundraisers for people in need
In addition to the events Hines regularly contributes to, he participates in two or three other fundraisers each year to assist people in need. For instance, in August he helped his rodeo committee hold a fundraising event for a 39-year-old man who has cancer and has not been able to work for almost a year. "The thing about it is, in this country, if you're not working, you don't have health insurance," Hines said. "So we raised money to at least supplement his travel back and forth to get his treatments."
Hines also has led Local 729 in preparing and delivering hot meals for community members affected by hurricanes and flooding. In both Texas and Louisiana, he has hosted holiday neighborhood parties in which he provides food and asks guests to bring toy donations for local children.
Why he cooks
When he was 10 or 11, Hines began cooking dinner for his parents. "I was an only child, both my parents worked," he said. "If I wanted to eat, I had to learn to cook."
But he also enjoyed cooking.
In high school, when he was a starting linebacker on the varsity football team, he won first place with his cookies in a baking contest. He cooked a full Thanksgiving dinner – turkey and dressing, side dishes, and desserts – for his parents and extended family one year, when his mother had a herniated disk in her back. "Mama usually did all the cooking for Thanksgiving," Hines recalls. Luckily she was there, so I could ask the questions if I needed to."
Now cooking is a full-scale hobby and part of his retirement goals. "I like cooking pretty much anything," Hines said. "You name it, I can figure out how to cook it and make it taste good." During a recent vacation, he took a cooking class and learned to make stuffed bell peppers.
"When I retire, I want to open either a catering business or a restaurant of some sort," he said. "If not, just a concession trailer that I could set up at events."