Local 1263 member Jessie Patterson has achieved goals quickly in her millwright career and has discovered a passion for helping others do the same.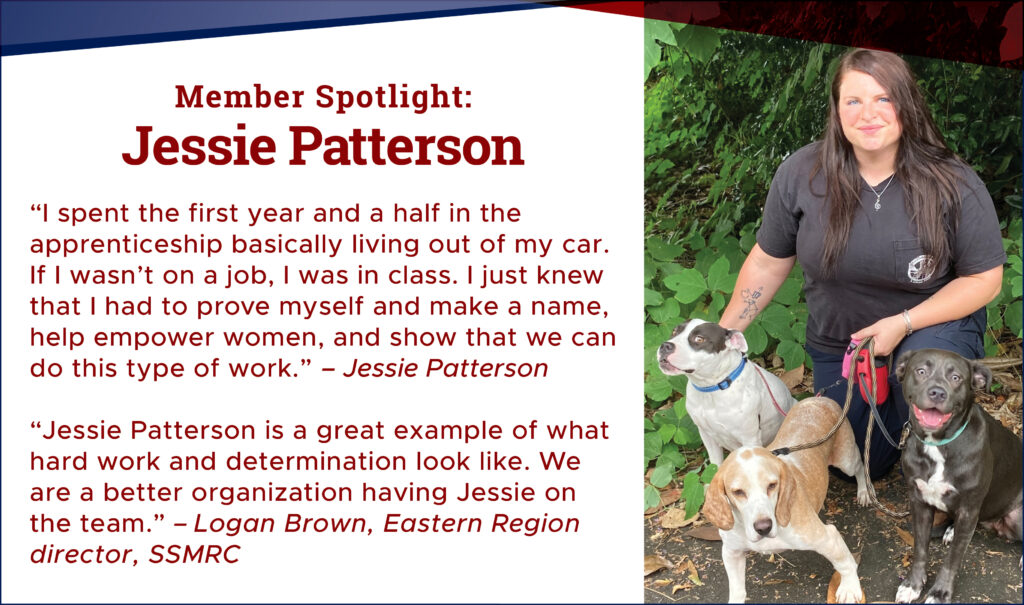 Finding the millwright trade after leaving the military in 2012 took Jessie Patterson several years, but she's been on a fast track ever since. Patterson joined Millwright Local 1263 in Georgia in 2016, topped out of the apprenticeship program in 2018, and accepted a full-time position as the millwright training coordinator at the Savannah training center in 2020.
"I have had the opportunity to track Jessie's career from when she first joined the apprenticeship to her journey through it," said Logan Brown, Eastern Region director of the Southern States Millwright Regional Council. "She has completed every goal that she has set for herself and has done well on every project she's been on. Jessie has taken ownership of the Savannah millwright apprenticeship program and brings energy and a fresh perspective to the program."
Learn more about Patterson through the Q&A below.
Q: How did you become a millwright?
A: I was working as an FME [foreign material exclusion] tech in Pennsylvania. We sat outside of any sensitive area where a logbook needed to be kept of any material that was going inside. We interacted with the millwrights a lot because we would log them coming in and out of the zone. We would make sure they were staying within the standards, having everything tied off, with lanyards on their tools, and everything on their person logged. We had to know a lot about tools and what they were actually doing.
Some millwrights from Georgia told me that I would be more suited for millwright work. I met three sets of families that were all on the same job, and they all told me that if I moved to Georgia, I could get in with Local 1263.
I give them a lot of credit for seeing my experience and potential and knowing that sitting behind this FME table, logging personnel, tools, and maintaining the zone, wasn't all I was capable of. I was better suited for millwright work. If I would have known about the millwright career when I got out of the military, I would have been a millwright way before 2016.
Q: Tell us about your military experience.
A: I grew up in Steedman, Missouri, and I left for the Army in 2009, a year after high school. I spent two years in Korea, and I finished out at Fort Hood in Texas. I was a chemical equipment repairer with an identifier (extra training in my military occupational specialty) on the LADDS (Laundry and Decontamination Dry Cleaning System). I also worked on our diesel equipment, generators, our LMTVs [light medium tactical vehicles], and Humvees.
I was in Korea during Fukushima. We cleaned up the villages after the tsunami. We did a lot of decontamination work.
Q: Besides working as an FME tech, did you have any career experience that translated to the millwright trade?
A: When I got out of the military, I worked for Dart Solo Cup in Champaign-Urbana, Illinois. I was a machine operator II. I basically made the lids for plastic cups. The lines had plastic rolls that fed into an oven that heated the plastic before it went into the dies to be shaped and cut. They then were picked, bagged, boxed, and sent out on our roller conveyor system that labeled the boxes and traveled them to either shipping or to the warehouse to be palletized. If anything went wrong with our lines, we fixed it.
I went from that to working at a Ford dealership, as a service technician. I worked there for about a year and a half. A friend told me about becoming an FME tech and pointed me in the right direction.
Q: What was the millwright apprenticeship like?
A: I spent the first year and a half in the apprenticeship basically living out of my car. If I wasn't on a job, I was in class. If I wasn't in class, I was on a job. I barely had any time at home. I just knew that I had to prove myself and make a name, help empower women, and show that we can do this type of work.
Q: Do you have a favorite type of project or type of millwright work?
A: I love working on conveyor. So much of what we do as millwrights is incorporated in conveyor. We do layout and tracking belts. We sometimes have to configure things because the engineer's drawings aren't the same as the equipment that you're getting in. It's a lot of critical thinking.
Q: Have you traveled a lot?
A: Yes. I was one of those apprentices who, if it was seven hours away and it was a one-day job and the BA called me, I was on it. More than half the time it turned into something more. I try to help my apprentices now understand the importance of taking those types of jobs.
Q: Why is taking those jobs important?
A: The experience, opportunities, and adding to our benefits every time we work are just a few reasons I never turned down a job. I have been all over, from Texas to New York and as far south as St. Croix in the Virgin Islands for work.
A lot of times apprentices look at it as, "I'm going to lose money." But they're forgetting that they're making connections that can potentially open doors for bigger and better jobs because the only way to sell yourself is to show them. You can talk it all day, but if you're not showing them and you don't have somebody to vouch for you, it's harder. When I was starting in my apprenticeship, nobody knew who I was. I was the new kid on the block, and being a female in a male industry, you really have to step up your game.
Q: What drew you to teaching?
A: All through my apprenticeship and as a journeyman, I've helped teach on the job. A lot of people have asked me, "Why aren't you an instructor?" I would take the time and show people how to do something if they didn't know how to do it. I did some part-time instructing right after I finished my apprenticeship, and I enjoyed it. Two years later, I was asked if I wanted to take on the full-time role.
Q: What classes do you teach?
A: I teach all the millwright classes at the Savannah Training Center. Mechanical Blueprint Reading is probably my favorite class to teach.
Q: What else do you do as part of your job?
A: I make yearly class schedules for my 60 apprentices. I bring in and do the paperwork for new apprentices. I keep an open dialog to maintain accountability and the success of my apprentices. I do a lot of prep for classes. I started prepping my class folders six months in advance when I took the position, knowing I was going to be very busy. It opened up my time for prep in other areas and made it where I could go to any folder, grab any worksheet, and hand it out to my class as needed. I've made a lot of props to get out of the classroom and more into the shop. You can read about something in a book, but a lot of millwrights learn better by seeing it, talking about it, feeling it, and actually doing it. I go over what is required, then off to the shop we go to put it in perspective.
Q: How do you take advantage of technology in the classroom?
A: One way is that I use our computer system to display instructional videos as well as show images of ongoing projects as a visual aid to help complete a task. I don't know everything. And I don't expect to know everything. I want to learn something every day. That is a goal – to learn at least one thing every day. When you stop wanting to learn, that's when there's a problem.
Q: What do you like best about teaching?
A: I love the communication with my apprentices. I've worked on jobs with half of my third- and fourth-year apprentices, so they know how I am. With my new guys coming in, it's the building of the relationships so if they have an issue, they can come to me, even if it's not related to millwright work. I'm like a counselor. I have a lot that come to me with personal issues, and they trust me to keep those to myself, which I do. For some of them, that's all they need – just somebody to talk to.
Q: Does that help keep them in the program?
A: It really does because if they feel that they can trust you and they feel that you're not just there for a paycheck, they invest more of themselves into the program, not just coming in because that's what they have to do. They actually engage, and they perform better.
Q: You mentioned being a woman in a male-dominated industry and having to step up your game. Do you have any particular advice for female apprentices?
A: It is starting to get better as far as men being mentors towards women and showing them instead of saying, "Hey, go grab me a tool." A lot of our females just fall into being kind of a laborer millwright. They're not actually in there doing the work; they're just "assisting."
I do have females that ask me, "What did you do?" To be honest, I had to be a bull. I was on the jobs where they wanted to hand me a broom. I was on the jobs where they said, "Hey, can you go be our tool runner?" I tell the apprentices: "You've got to stand up for yourself. You have to be verbal. You say, 'I can do this.' Or, if you don't know what you're doing, ask 'Can you show me?' Say it in a respectful manner."
How you approach standing up for yourself is key. There is a time and place and proper way to have these conversations. My advice would be, know that everyone has to do the not-so-fun jobs, but that doesn't mean you have to be the only one doing them. Talk to your foreman or supervisor. Find out why you aren't able to actually do the work. Let them know you are capable and willing.
Q: Have you done any leadership training through the union?
A: I have been to the Carpenters International Training Center in Las Vegas for the UBC Journeymen: Building Leadership for a Strong Future program. I'm slated to go to the 212 Journeymen: Next Level UBC Leaders program.
Q: Are you doing any other continuing education?
A: I currently have a little over a year left and I'll have my bachelor's degree in operations management concentrating in project management from Southern New Hampshire University. I take eight-week courses online, and I have been non-stop for a little over a year. There's so much to operations management that I could incorporate into this position, it will help me in my future endeavors.
Q: How do you spend your time when you aren't at work?
A: I take care of my mom and sister, who live with me. I paint, garden, and build things like a roller cabinet for my mother to hang all her pots, pans, and cooking utensils on. I love to cook as well. I rescue and foster animals and volunteer at our local animal-rescue center. We currently have five dogs and seven cats, all rescues.
Q: Tell us about your family.
A: I am the third of four siblings. I have two older brothers and a younger sister. My grandpa is a Marine and was in the Operators Union out of Illinois. He passed away in 1997. I have two cousins who joined the millwrights in Illinois in the last four years.
Q: What are your plans for the rest of your career?
A: I would love to be a part-time instructor in Vegas before I become a training director or higher.
Q: Why do you want to stick with the training side of the organization?
A: That's where we begin, where it all starts. If it's not good here, how is it going to be good everywhere else?