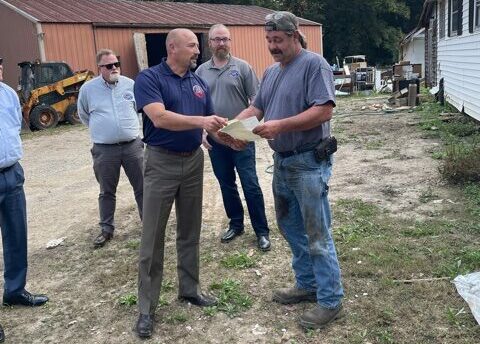 Flood waters rose so quickly on Aug. 21 in Waverly, Tennessee, that Michael T. Davis had to escape his home by climbing through a window and into his boat, which the water had pushed against the house.
The Waverly flood killed 20 people and damaged hundreds of homes when 17 inches of rain fell in a short amount of time.
Davis, a member of Millwright Local 1554 who works for partnering contractor Palmer Tool in Camden, Tennessee, had been trying to repair the damage himself. John Lowry, Davis' foreman with Palmer Tool, contacted Local 1554 Business Agent Steve Williams about Davis' loss. Williams notified Southern States Millwright Regional Council Executive Secretary Treasurer Wayne Jennings, who applied for assistance for Davis through the Carpenters' Helping Hands program, which is funded by United Brotherhood of Carpenters locals and councils, including the SSMRC, and provides grants to members facing adverse circumstances.
Jennings, Williams, and other representatives of the council and Local 1554 presented a $10,000 check to Davis on Oct. 1. Davis said he never expected to receive so much financial assistance, and now he will be able to hire someone to help him repair his home so he can move back into it.
"It means so much to me that people would do so much to help me at such a difficult time," Davis said. "The generous donation I have received will help me get electricity back in my house, sheet rock, and a water heater, stove, refrigerator, and other appliances that I've lost. I was overwhelmed at the generosity and compassion. Thank you brothers and sisters."
Local 1554 and Palmer Tool also raised approximately $2,600 for Davis, and the Nashville Building and Trades Council donated $500.
The images below show the flooding around Davis' house and the damage inside.