Travel to beachside communities in Alabama and the Florida Panhandle has increased tremendously in recent years, and millwrights from Local 1192 are helping expand the Destin-Fort Walton Beach Airport to accommodate the growth.
According to data from the airport, the number of passengers it serves nearly doubled from 2014 to 2019. The airport's director said additional passengers were expected after Southwest Airlines began service to the airport in May of this year. The airport opened in 1957 on Eglin Air Force Base, which neighbors Valparaiso, Florida. Contractor Mammoet Industrial Services and Local 1192 millwrights have been working at the airport since April as part of a $20 million project that includes a terminal expansion, new baggage-handling system, an additional ticketing counter, and more.
Mammoet is handling all the millwright work in partnership with Local 1192. "The capacity of the whole outbound system is being increased," said Brian McClure, general manager for Mammoet Industrial Services. "We're adding a ticket counter. There's going to be more places for passengers to drop off their luggage, and then there's going to be more capacity in terms of screening. Everything to do with the mechanical installation of the baggage-handling system is being done by our millwrights. We have quite a bit of conveyor up in the air, so that includes all the supports and the steel."
In many ways, the project is a first for both Local 1192 and Mammoet Industrial Services. This is the first time the two organizations have worked together and the first time Local 1192 has worked in an airport along the Gulf Coast, said Jeff Smith, director of the Central Region of the Southern States Millwright Regional Council, which includes Local 1192.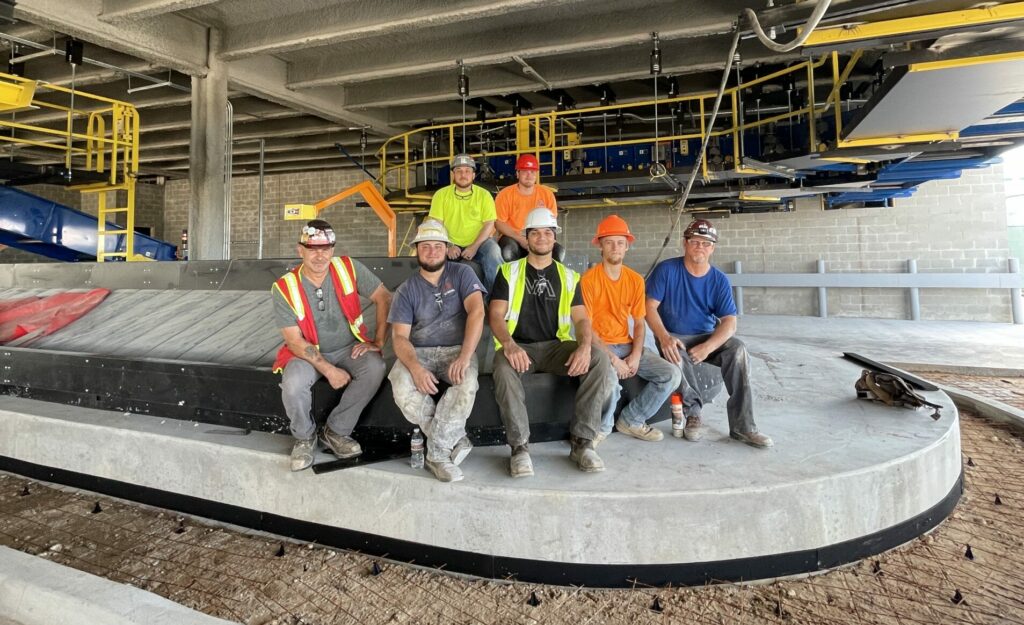 Test project
For Mammoet Industrial Services, a union company based in Swedesboro, New Jersey, the Destin-Fort Walton Beach Airport job is an experiment to test whether the company can successfully complete projects of significant scope outside the Northeast.
Mammoet fabricated a tool trailer, stocked it with equipment needed for the job, safety gear, a workbench, and an office station with a desk, then towed it to Florida behind a company service truck.
"It's like a proof of concept that we can send our experienced supervisors with a tailor-made tool trailer to any job anywhere and rely on the expertise and quality of the local union millwright labor force to deliver on our promises to our clients," McClure said.
That's why the relationship with the local union leadership is so important, he continued.
Contractor-SSMRC partnership
McClure said the preparatory work Mammoet was able to do with the SSMRC regional management team, mainly Smith and Local 1192 business agent Les Roberts, was phenomenal. "I really feel that they understood the essence and the importance of this project and have made every effort to make the project a success, from handpicking the crew to addressing anticipated culture gaps between their members and our guys coming from the Northeast."
The SSMRC leadership also understands what it takes for a contractor to win work, McClure said. "We're on the same side of the table and that really helps us when we go out of town and look at new opportunities," he said.
In addition, Mammoet can bank on the high-quality training and expertise SSMRC millwrights bring to the jobsite. "That combination is golden and essential when you're working remote from your hub," McClure said.
Travis Barnhill, a Local 1192 member and foreperson for the airport project, said he is enjoying working with Mammoet supervisor Tony Brandt, both because of how Brandt directs the work and how he treats the millwrights. "I would work for him anywhere," Barnhill said. "He takes care of us and gets us everything we need."
Details and challenges
The main portion of the project involves installing a new outbound, checked-bag screening and transport system, demolishing approximately 300 feet of an existing baggage-handling conveyor, and building temporary feed lines to keep the system operating during construction. Millwrights are building approximately 1,400 feet of new conveyor line, not including temporary lines, as well as carousels from which airport workers will pick up luggage and load it onto planes.
One challenge is that the airport terminal is fully operating while the work takes place. The situation means there are added risks, but it's not uncommon with airport projects, McClure says.
A much bigger obstacle has been that the terminal expansion was not completed before millwrights began work on the new baggage-handling system. They have been working alongside laborers, roofers, electricians, and more. "We're kind of working on top of each other, and that really requires a lot of flexibility and interfacing with the other trades," McClure said. "The millwrights have really stepped up and showed the adaptability to deal with the ever-changing conditions and to safeguard the quality and schedule of the work."
Results
The project is slated for completion in January. In mid-July, Barnhill said millwrights had finished the new ticket counter, two baggage carousels, and the conveyor system running to them. "We got it done, and they got it tested, and we're just going live right now," he said. "It's turned out really well; I'm proud of it."
Both the general contractor for the entire project and Daifuku Airport Systems, the subcontractor Mammoet is working under to complete the baggage-handling-system segment of the project, have complimented the craftmanship and professionalism of Mammoet and the SSMRC millwrights the company employs. "They've been very impressed with our attitudes and the way we've dealt with all the hiccups and changes," McClure said. "The positive feedback is not only important for this project, but also for any future work."
Looking forward
At the Destin-Fort Walton Beach Airport, much additional development – including a baggage-claim expansion, multi-story parking garage, administrative building, vehicle-inspection facility, and more – has been proposed for the next five years.
McClure said Mammoet is already in talks with current clients regarding additional projects, including another baggage-handling line, at the Destin-Fort Walton Beach Airport. Mammoet and Local 1192 also have been discussing other opportunities in the local's jurisdiction, primarily focused on airports and the pharmaceutical industry. "We received a great list with opportunities from Jeff [Smith] that we're trying to hit to expand our footprint in the 1192 area," McClure said.
A successful project also will give Mammoet the confidence it needs, in general, to take its industrial services on the road nationwide, he added. "With this job primarily being a proof of concept, hopefully more will follow on the back of it," he said.
Smith said the airport project has helped Local 1192 members build baggage-handling-system skills onto their conveyor training and experience. "It's a good opportunity for the contractor and the members of Local 1192 to secure this work and develop a relationship for future projects," Smith said.