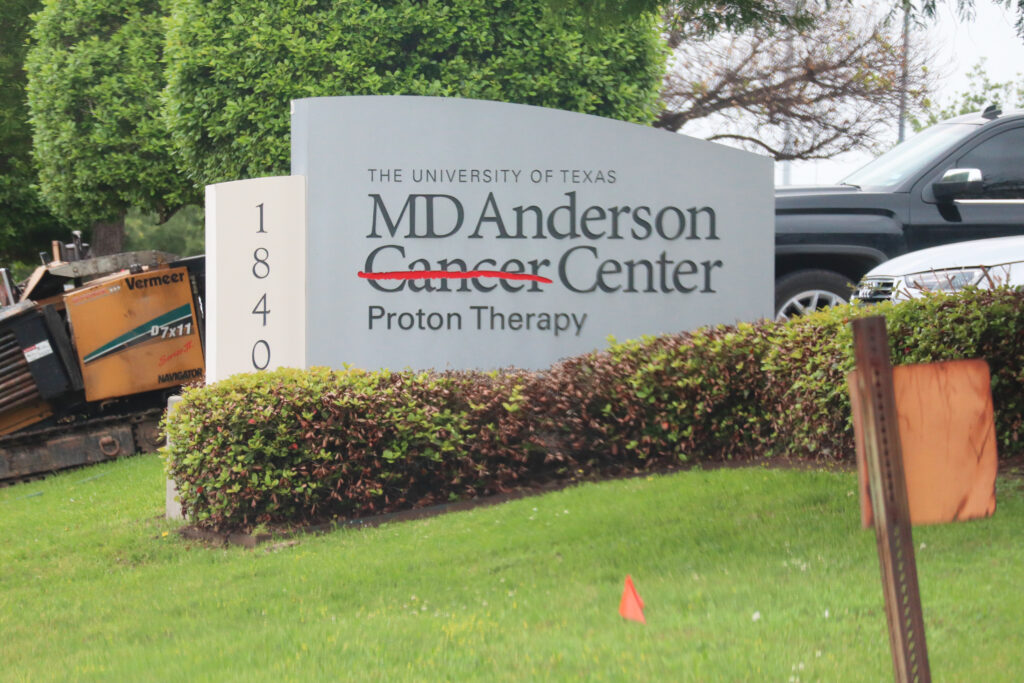 Union millwrights are working with partnering contractor Boldt to double the size of a Houston, Texas, medical center that delivers the most advanced and precise form of radiation therapy to cancer patients.
"This expansion is critical for patients who need access to proton therapy," said Steven Frank, medical director of The University of Texas MD Anderson Cancer Center's Proton Therapy Center. "Our center has been operating at capacity, treating patients 20 hours a day, five days a week."
The expansion means more people will have access to life-saving therapy. "As millwrights, we don't get a lot of opportunities to contribute to human health," said Dwight Murrah, business agent for Millwright Local 2232 in Houston. "We get to make jet fuel. We get to make resin that goes on the blades at the wind farm, we get to do a lot of things with chemicals, but opportunities to give back something that would directly help another human being live a better life are few and far between."
The highly sophisticated cancer-fighting technology relies on a series of massive machines and other equipment that millwrights must install to exact elevations – in many cases, with accuracy of two to three thousandths of an inch. "We just installed a 16-foot-long frame beam, and that had to be within .02 of a millimeter over the 16-foot span," said Ralph Maxwell, site superintendent for Boldt. "Everything has to be in precise alignment."
Floors often are not level, but pedestal bases for the equipment have to be. If bases for the machinery are not at the exact same alignment, the equipment could bend or twist, Murrah said, and the precision of the treatment could be compromised.
The new machines will deliver intensity-modulated proton therapy, the most precise form of image-guided radiation therapy available. Proton therapy is an advanced type of radiation treatment that uses a beam of protons to deliver radiation directly to tumors, destroying cancer cells while sparing healthy tissue. This therapy currently is used to treat adult and pediatric cancers, including brain, lung, prostate, head and neck, liver, esophagus, and lymphatic-system cancers.
After the $159 million expansion is complete, the center will include eight radiation-therapy machines that rotate 360 degrees around a patient. The expansion also will include an additional synchrotron, the large accelerator that creates the proton beam.
Millwrights are installing all the new machinery that is part of the proton-therapy process, which begins with separating hydrogen atoms into negatively charged electrons and positively charged protons. Protons are then injected via a vacuum tube into the linear accelerator before moving through a beam-transport system comprised of a series of bending magnets that direct the proton beam to the appropriate treatment room. At maximum energy, the proton beam travels 125,000 miles per second or two-thirds the speed of light.
"The patient never really knows they're inside several hundred of tons of equipment," Maxwell said. Millwrights are installing all components of the cone cylinders that surround patients during treatment. They also are setting the bending magnets, installing the accelerator, and building forms and bases for equipment and two permanent cranes that will reside inside the building and be used to make repairs or change parts. Once structures are in place, millwrights who can TIG weld will be needed to fuse two types of medical-grade metal.
Tractor-trailers are delivering more than 300 loads of equipment to the jobsite, Maxwell said. Boldt employees are responsible for uncrating the equipment, using rigging to fly it into the building, and then proceeding with installation.
Logistics
Murrah has gradually added manpower to the project since millwrights began working at the site in January 2021. At its peak, the job will likely require 30 to 35 millwrights to be onsite daily. The project was announced in August of 2019, but before millwrights could start their job, the building had to be 80% complete. Millwrights are slated to finish their work at the end of October 2021. The estimated project completion date is November 2023. After the mechanical installation of equipment is complete, other contractors have to do electrical work and then Hitachi, the maker of the equipment, must install computer systems, program the machines, and fine-tune and triple check them, Maxwell said.
The multi-craft project also engages union ironworkers, sheet-metal workers, laborers, and carpenters, making for a jobsite that can be crowded at times. Once some of the other crafts finish their work, the number of millwrights on the job will ramp up, Murrah said.
Challenges
Despite the number of workers at the jobsite, social-distancing and mask-wearing requirements have been followed to prevent the spread of COVID-19. Because of limited space for taking breaks together, millwrights often go to their vehicles during breaks, and Murrah said this has been a good solution since workers have access to a dedicated parking deck with no parking costs right next to the jobsite.
Some delays have affected the project schedule. The second shipment of Hitachi machines arrived from Japan before the first shipment. Then the February ice storm that disrupted electricity supply across Texas stalled work again. But by ramping up manpower later in the project, millwrights should complete their tasks on time, Murrah said.
Working in a sterile medical environment with equipment that costs millions of dollars is an ongoing challenge. Equipment and parts have to be stored in climate-controlled areas with no moisture – a particularly tough requirement given Houston's climate. All rooms where machinery is present have to be climate and humidity controlled (meaning a door left open could cause harm), nothing can be damaged or scratched, and a lot of parts can't be touched without gloves, Maxwell said. Local 2232 millwrights, some of whom are not accustomed to such conditions, have done an excellent job of adapting to an environment that is very different from a petrochemical plant or paper mill, Maxwell added.
Finding millwrights experienced in new construction, TIG welding, and using optical alignment to set elevations for equipment has been a hurdle for Local 2232. Unfortunately, many millwrights get pigeonholed in certain industries, Murrah said, and medical projects have not been common in Local 2232's jurisdiction. Members are more likely to work in the power-generation and petrochemical industries, which are dominant in the area and involve different skills, such as aligning equipment that spins in a circle. They don't repeatedly set bases 40 feet apart at the same elevation. Still, Murrah has recruited members who do have this experience, and they are training apprentices, who Boldt encouraged having on the job.
Building the contractor relationship
Both the apprentice training and the relationship with Boldt's medical division will help Local 2232 and the Southern States Millwright Regional Council gain similar work in the future, said James Rowland, director of the SSMRC's Western Region. Since precision and cleanliness are so important at the Proton Therapy Center, apprentices are learning best practices and the most thorough techniques. They will take the skills and processes they've learned into subsequent projects.
While other locals that are part of the SSMRC have partnered with Boldt for years – on projects including Amazon and Goodyear Tire facilities, paper mills and conveyor jobs – this is Local 2232's first project with the nationwide general contractor and the SSMRC's first health-care project with the company. Boldt has been part of four other proton therapy projects in the United States during the past four years. If union millwrights do a good job with the Houston project, similar opportunities to partner with Boldt in the health-care arena will likely arise for Local 2232 and the SSMRC, Rowland said.
"That's always the goal – to break into new markets, to grow your manpower and your man-hours," Murrah said. "Any project you can get and keep and build on strengthens our organization as a local, as a council, and as an international labor union."
Maxwell said Local 2232 millwrights are qualified and performing well and Boldt would definitely work with them again. "We've developed a really good team," he said. "They're glad to build something that's part of saving lives."
Rowland agrees. "It's one of those jobs where 20 years from now, when advances in proton cancer treatment are being discussed, our members can say, 'I helped build that facility in Houston that does that.'"
Maxwell said the mother of one of Boldt's project coordinators at the MD Anderson Proton Therapy Center was cured of breast cancer after receiving proton therapy and several workers at the site have family members who are on the waiting list for proton therapy. "You feel proud about certain jobs, where you're producing electricity for a a community, for example, and then, all of a sudden, you're part of something that's saving lives," he said. "That's been a great benefit. It gets you through the perceived bad days because, when it's all said and done, you're building something that saves lives. Everybody is honored to be part of this."