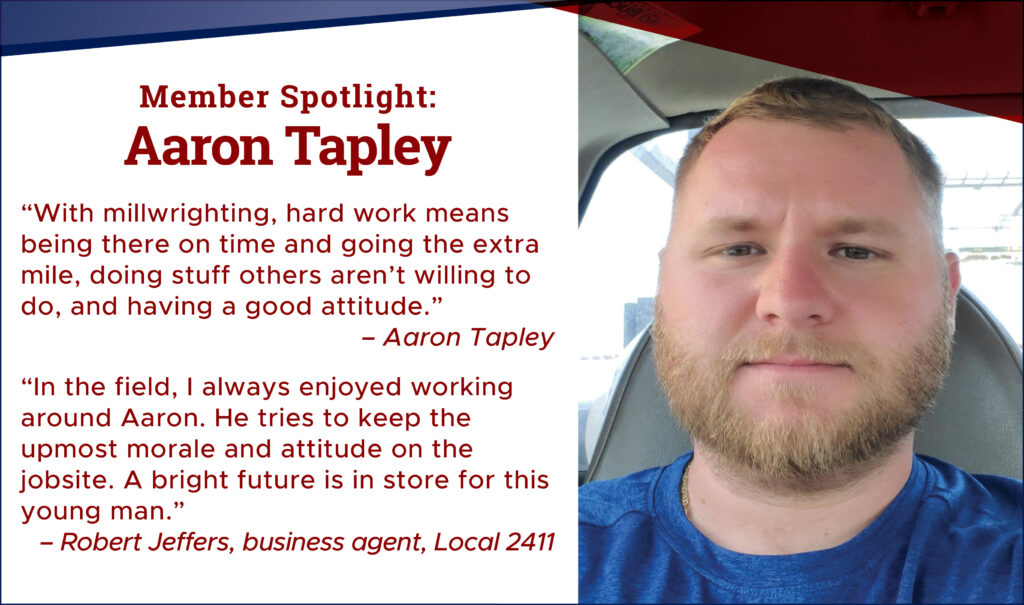 Local 2411 member Aaron Tapley followed his grandfather and stepfather into millwrighting and has become a foreman before age 30.
Twenty-nine-year-old Aaron Tapley has risen through the apprenticeship ranks and is now a foreman for industrial construction firm Milton J. Wood, based in Jacksonville, Florida. A member of Millwright Local 2411, Tapley grew up in Nahunta, Georgia, and currently resides in Jacksonville.
"In the field, I always enjoyed working around Aaron," said Robert Jeffers, business agent for Local 2411. "He tries to keep the upmost morale and attitude on the jobsite. A bright future is in store for this young man."
Q: When did you become a millwright and when did you join the union?
A: In May of 2012, when I was 20 years old. I went straight into the hall. It was basically my first career choice. I had a different job for about a year out of high school.
Q: Why did you decide to become a millwright?
A: My grandfather and my stepfather were millwrights and members of Local 2411. I've always been mechanically inclined and good with wrenches. I grew up hearing stories from my grandfather and learning how to use the tools – just basically backyard mechanicing in South Georgia. The money and benefits also drew me.

Q: What kinds of facilities have you worked in?
A: Mainly paper mills and food-processing plants. I've also worked on turbines.

Q: Do you mainly stay close to home or do you travel a lot?
A: I mainly work close to home. I've been with the company Milton J. Wood for almost eight years now. I travel with them whenever they get jobs out of town, but it's mainly in town. About 75% of my career has been with them. And they have enough work to keep me usually within an hour's radius of home.
Q: Tell us about the job you're currently working on.
A: I'm working at USG – United States Gypsum – with Milton J. Wood. It's about a two-week job rebuilding a bucket elevator. Seven millwrights are there, and I'm a working foreman.

Q: When did you become a foreman?
A: I've been a foreman with Milton J. Wood for about a year and a half now. I've got a company truck. I'd run little crews here and there when we'd work big shutdowns. I played the role of foreman for a while until they actually gave me, officially, the title of foreman.

Q: What do you think accounts for your success so far?
A: Mainly hard work and knowledge. Hard work has been instilled in me my whole life by my father, my stepfather, and my grandfather. They're just hard-working people. My father worked in several different trades, but mainly was a tractor mechanic and general foreman for a concrete company. With millwrighting, hard work means being there on time and going the extra mile, doing stuff others aren't willing to do, and having a good attitude. A lot of the knowledge has come from on-the-job training, retaining what I've learned, and being able to figure stuff out.
Q: And what are your plans for your career?
A: Just keep making money, stay healthy enough to work, and continue in some leadership roles.
Q: Do you try to help others, especially apprentices, with on-the-job training now?
A: Yes. The more I teach a new apprentice, the easier it makes my job.

Q: What are your hobbies outside of work?
A: I like fishing and working on my truck. I'm rebuilding a truck – an '84 Chevrolet four-wheel-drive. I like trucks from the '70s and '80s because they're easier to work on, simpler, no computers. And the trucks from the '70s and '80s are the best looking to me.