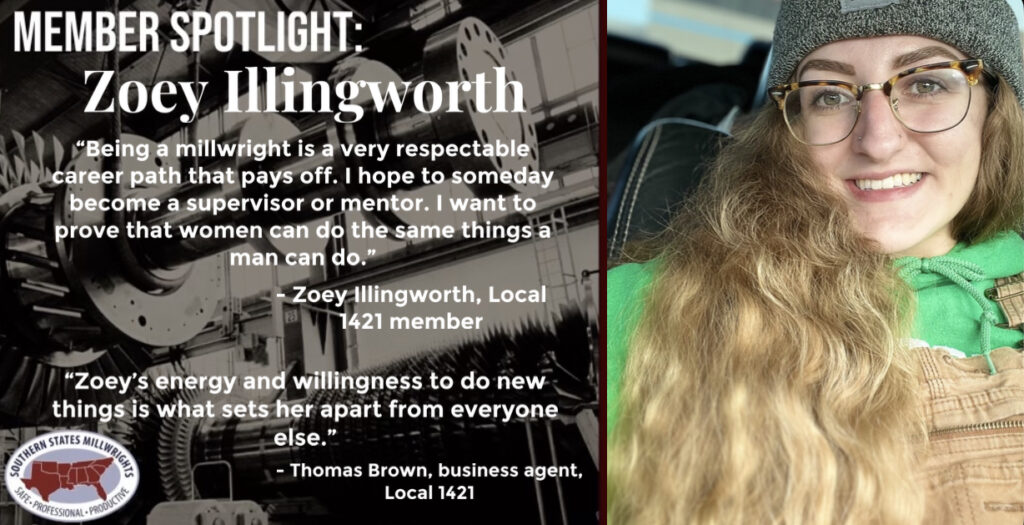 Most children often look up to their parents and tend to grow up and be like them. That was no different for Local 1421's Zoey Illingworth. After watching her father growing up, she wanted to follow in her father's footsteps and carry on the legacy he has created working as a union millwright.
The 25-year-old is a second-generation millwright and first woman millwright in the Illingworth family.
"Being a millwright is a very respectable career path that pays off," Illingworth said. "I hope to someday become a field supervisor, superintendent, or mentor. I want to prove that women can do the same things a man can do."
Local 1421 business agent, Thomas Brown, recommended Illingworth as the spotlighted member for February. "Her energy and willingness to do new things is what sets her apart from everyone else," Brown said.
Learn more about Illingworth through her answers to the questions below.
Q: Most challenging thing about being a millwright?
A: It's challenging in many different aspects. Some people don't agree with women being a part of the trade, and that's okay. It's fuel to the fire. There is also the challenge of my personal weaknesses like mathematics or lacking certain basic skills in the trade, but it's all about learning and making mistakes. Everybody has to start somewhere. As long as you never stop trying and always work at bettering yourself in the trade, you will be okay. Confidence and persistence will take you far.
Q: How do you overcome adversity and adjust to the ever-changing conditions that come with being a millwright?
A: I don't take things personally, and I learned that patience is the most important trait to have. You have to have tough skin when handling the working conditions, as well as the people you work with. At times it's not about friendships but the safety of others and getting the job done.
Q: Describe your daily duties.
A: The last job I worked was in Port Arthur on a turn around. We were working on compressors and steam turbines at a methanol plant. A lot of the time I was fire watch. I was also part of a team rebuilding a 40,000 horsepower steam turbine. Removed 2 centrifugal bundle compressors, HP and LP. I also worked plant balance on centrifugal pumps.
Q: What do you like most about being part of Local 1421?
A: We have amazing and friendly instructors and staff members. From the first day I walked in, I have always felt at home.
Q: When you wake up every morning and get ready to start the day, how do you approach the day?
A: I wake up every morning and take the time to thank God for waking me up and giving me the life and opportunities, I have been given. Every day is not guaranteed.
Q: Favorite job you've worked and why?
A: My favorite job probably has to be when I worked at George Bush Airport in Houston. I met the most genuine people and the journeymen I worked with were selfless and taught me so much.
Q: How did you learn about the millwright trade?
A: My father, who's been a millwright for 38 years and counting. I have an endless amount of respect for him and the sacrifices he has made for our family. I aspire to be as good as he is. I hope I make him proud.
Q: Were you able to stay close to home with this trade?
A: There are opportunities that could keep me close to the home, but I wouldn't be working as much as I would like to. The more you can travel, the more you will work throughout the year.
Q: What do you feel are some perks of being a member of the UBC?
A: The free quarterly classes and getting to see the world are probably the best things about this trade.
Q: What is some advice/encouragement you'd give to people looking to become a millwright?
A: GO FOR IT! We need more brothers and sisters to keep the trade going. If you don't know anything, they will gladly teach you. Learning is what it is all about.
Q: What is one thing that you feel women trying to break into the industry should know?
A: Do not second guess yourself. Never be afraid to ask questions and do not be embarrassed when you don't know how to do a new task at hand.
To learn more about how you can begin your millwright career, click here.