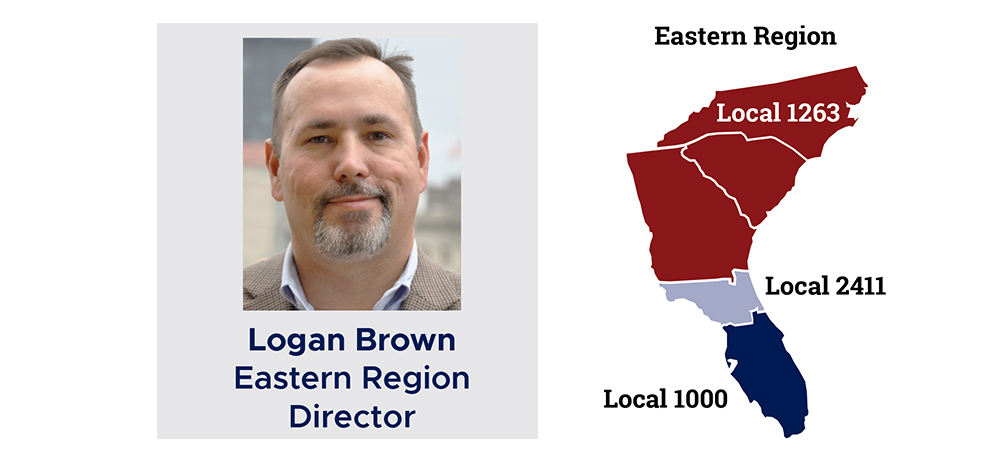 The Eastern Region has multiple jobs that are ongoing throughout Local 1000, 2411, and 1263. The outlook for the remainder of the year looks steady.
North Carolina has multiple projects that will be ramping up during November and December.
We are continuing to collaborate with our contractors for the automotive opportunities in Georgia and South Carolina however we do not have any confirmation at this time. Georgia has great opportunities in the paper mill and bulk mail sectors that should carry those who want to work the remainder of the year.
North Florida will continue to have small paper mill outages. The Local 1000 area always has needs for the phosphate industry. Airport and food and beverage work is off and on.
We are looking at the busiest spring that we have ever seen starting in January. If you are not working, please take this time to catch up on your upgrade classes and certifications.
We also need everyone's assistance in recruitment of individuals to our craft. We ask that each member find someone who will be an asset to our brotherhood and commit to guiding and mentoring them through an apprenticeship or through their first couple of years.
For more information, members are encouraged to reach out to business agents in their area.
Local 1263: Robert Strickland (770)-795-1263 or Charles Smith (704)-286-1263
Local 1000: Cliff Tucker at (813)-626-1119
Local 2411: Robert Jeffers at (904)-303-2691