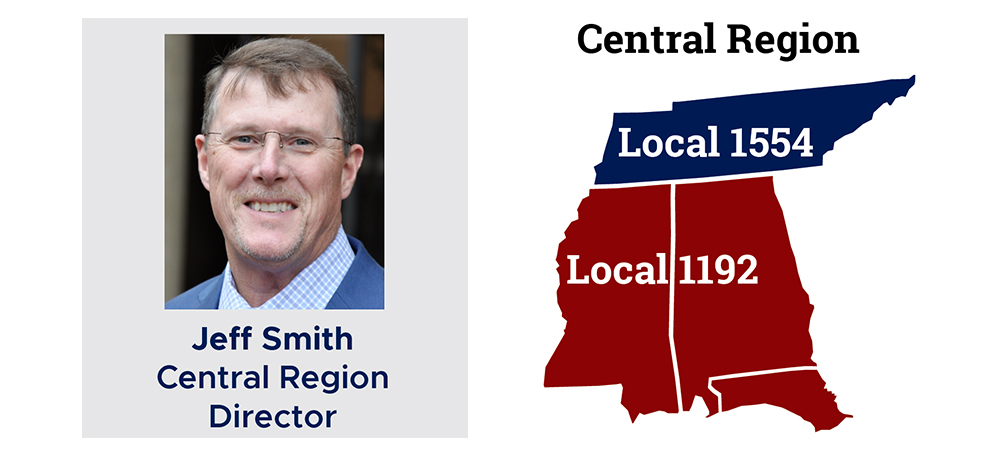 Fall outage work is looking to be very busy for our members across the Central Region.
New members in the Central Region are needed as more working opportunities present themselves.
Millwrights are in high demand across our eleven-state footprint as we have a tremendous amount of work. If you know someone who is mechanically inclined, put them in contact with a local business agent or have them fill out a new member application on the SSMRC website.
Please reach out to your business agent and put yourself on the out-of-work list if you are available for work. If you are traveling outside of your home local jurisdiction for work, check in with the local that has jurisdiction where you are procuring employment.
Please take advantage of all opportunities to enhance your skill sets (forklift, ariel lifting, welding and rigging) through the training department.
The Central Region is working with the following contractors at the facilities listed below.
Alabama / Mississippi / FL Panhandle
Plant Daniels in Moss Point, Mississippi is remobilizing with 10 millwrights per shift.
SIEMENS will be hiring day shift on November 22nd and nights on November 29th. They will be working on the LP 1 and 2 and installing valves.
Chevron outage in Pascagoula, Mississippi is ongoing. APM has a few weeks to go, and they will be finishing up a major project on the gas turbines.
Atlantic Plant Maintenance will be kicking off an outage at Plant Crist. They will be working 4 millwrights for approximately 4 weeks.
FLUOR is continuing their fall outage season. They need 11 additional millwrights for 2 weeks starting on November 28th.
National Steel City just added 4 more millwrights to the crew at Calvert Steel Mill and should be looking to add another 50 millwrights in the coming months. They are working on a new melt shop that will last 6-9 months.
J&J will start at Toyota Engine in Huntsville around the end of November or the first of December. They will need 35 millwrights for 4-5 months.
Duncan will need 15-20 millwrights around the end of December at the Toyota Engine Plant 6/10s schedule for 3 months.
NKC will be working at the Toyota Blue Springs plant they will need 12 millwrights during the day and night. 7/12's from December 22nd to January 5th. Not working on Christmas day.
Honda will have a small outage this year at Christmas.
LG Fox will have some work at Toyota Mazda also during the Christmas outage.
IPS will need around 14 millwrights starting in December for 3-4 months.
Atlantic Plant Maintenance is currently kicking off a project at the Allen Combine Cycle Plant in South Haven, Mississippi. The project duration is expected to last ten days, 7/12's schedule.
For more information, contact Clint Smith (205)-836-6734 or Lessie Roberts (251)-479-1415.
Tennessee
H&H Brown has a project that is wrapping up at Kordsa Chemical Plant that has lasted 30 days.
Walbridge is continuing to work at Walmart in Knoxville. They will need an additional 2-4 millwrights after the holiday. This project will continue through Christmas.
S&H Erectors will be needing 10-12 millwrights for their December work, TBD
Bridgestone, Warren Plant will be expanding their facility the start of 2023.
Tops Field Services has a project kicking off this month at TVA Gallatin that will last 30 days.
Lee Machinery Movers will be performing work this month at General Motors in Springhill at the Battery Plant. This project will be worked on a 5/10's schedule and should last through February.
For more information, contact Steve Williams (615)-874-8591 or William Condon (423)-485-3466.
Please take advantage of all opportunities to enhance your skill sets (forklift, welding, aerial lift, rigging) through the training department. As always, let's do things right the first time, on time, every time, while being safe, professional, and productive.