By Bryan Spradley, training director, Arkansas/Oklahoma Carpenter Apprenticeship Training & Trust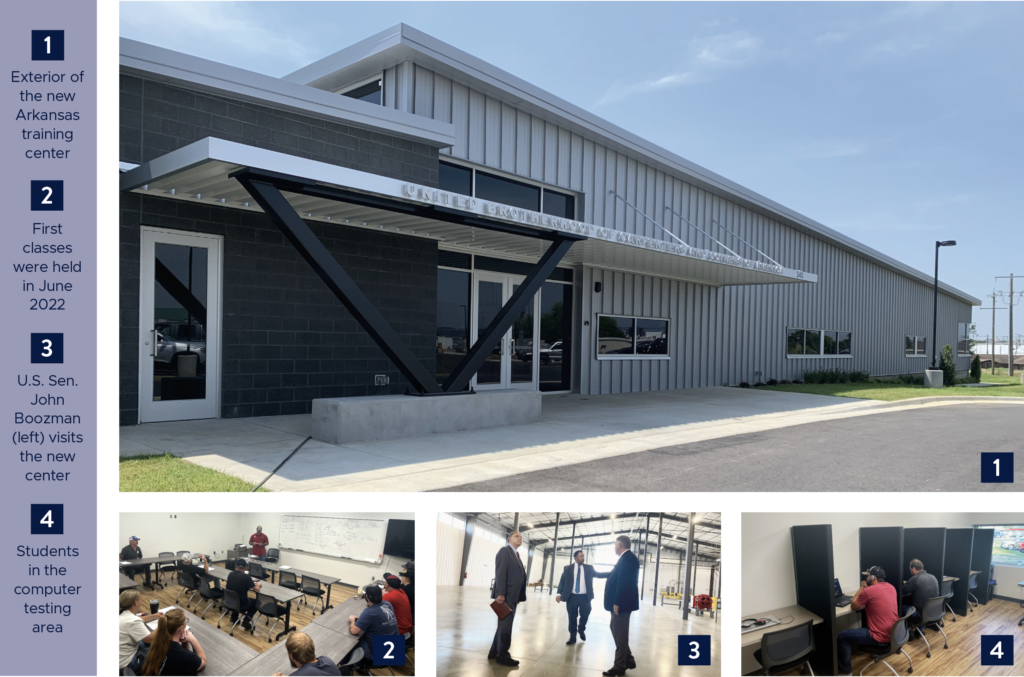 In the state of Arkansas, the new 35,000-square-foot, state-of-the-art training center located right off Interstate 40 in Russellville was completed in May. The proximity of this facility to a major interstate has given us more visibility with contractors, state and local leaders, and the general public. This exposure is already opening doors for our locals and apprenticeship program to grow.
On June 6, 2022, we officially held the first set of classes in this new facility. Because the new training center is three times bigger than our old facility, we were able to build three additional classrooms, which have allowed us to more than double the number of classes we teach. We also have incorporated a computer testing center, which gives us the ability to provide site-specific, online orientation for members before they arrive at jobsites.
The hands-on training area in the shop is approximately 20,000 square feet. This expanded space enabled us to add four welding booths for a total of eight, along with new training props and additional safety features.
With the exposure we are receiving and the increasing demand for skilled labor in the industries we serve, local and state officials and contractors have toured the new facility, bringing new work opportunities to our region. New work means new training requirements for our members. Several of our partnering contractors are helping us obtain new training props to see that their needs are met. This will improve the training we can provide for apprentices; it also allows journey-level millwrights to attend upgrade classes that will enhance their skills. The use of state-of-the-art technology is allowing us to keep up with demands for training our members.
We are still in the planning stages for open-house events but will be including representatives from various technical schools and high schools in our area to establish the UBC Career Connections program, which helps teachers introduce students to careers in millwrighting and carpentry, in Arkansas.
The program has been a great recruitment tool in Oklahoma, and we expect the same results in Arkansas. The apprenticeship program representatives are committed to participating in career/job fairs throughout our region. Utilizing hands-on activities for students and interaction with training staff and business representatives, we are able to engage high school students and educate them on the options other than four-year colleges and the benefits of apprenticeship.