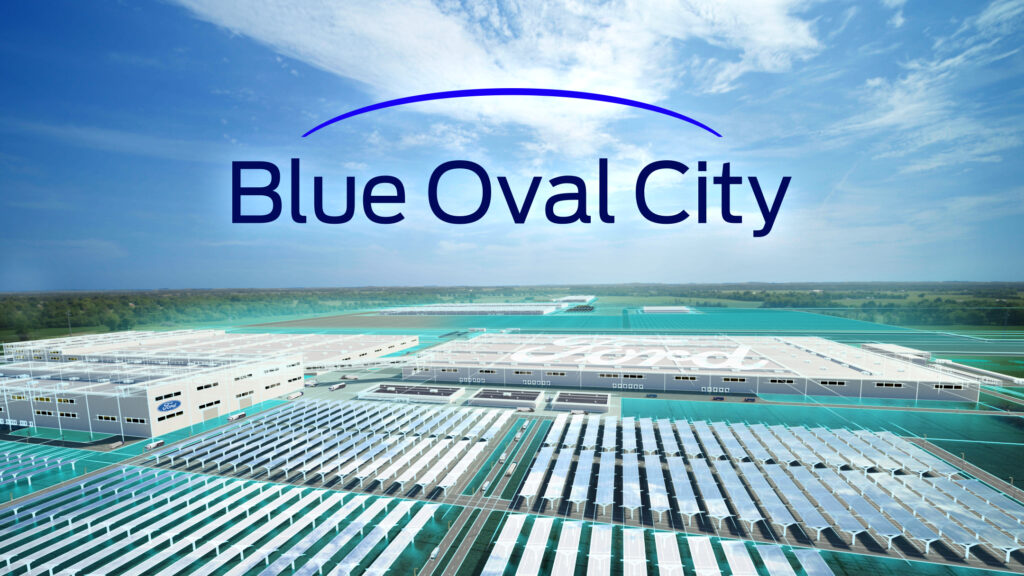 Union millwrights from across the South will be needed to build the largest auto-production complex in Ford Motor Company's history. Ford announced last year it will build the $5.6 billion project in Stanton, Tennessee. The massive undertaking – which includes an electric-vehicle-manufacturing facility more than two-thirds of a mile long and a battery plant the size of 109 football fields – will provide a wealth of work opportunities for SSMRC members beginning as early as February of 2023 and stretching into 2025 and beyond.
"The Ford BlueOval project is a great opportunity for growth within the region," said Jeff Smith, director of the SSMRC's Central Region. "We will be able to increase our membership rosters while providing long-term working opportunities that will allow us to increase market share within the industry."
Called BlueOval City, the complex will produce electric F-Series pickups and advanced batteries. The 3,600-acre campus will cover nearly 6 square miles and will include a supplier park. Ford also is partnering with SK Innovation to build two battery plants in central Kentucky, in addition to the 3-million-square-foot battery facility at BlueOval City. Another battery plant is possible in Tennessee, too. "They set aside enough land that they can build a duplicate to the first battery plant right next door to it," said Steve Williams, business agent for Millwright Local 1554, which covers Tennessee.
Ford committed to building BlueOval City with union labor. The complex will be constructed under a project labor agreement administered by the National Maintenance Agreements Policy Committee. While non-union companies can work on the project, they must use union labor and follow the labor agreement. Learn more here.
Millwright work and timeline
Ford and general-contractor Walbridge broke ground at the greenfield site in March. The battery plant will be constructed first, and Williams said millwright work is expected to begin there in early 2023. The truck plant should be ready for equipment installation in fall of 2023 or early 2024, he said.
Tennessee officials estimate approximately 33,000 workers will construct BlueOval City.
"There's going to be a lot of work in that plant," said Rich Tschida, vice president of Alltech Engineering Corp, an SSMRC partnering contractor. "And there's no doubt that a good percentage of those hours are going to be millwright hours."
Millwrights will install battery-plant equipment, miles of conveyor equipment in the truck plant, dipping tanks, robots, and more, Williams said. They'll also be involved in rigging.
Partnering contractors ready to win bids
In collaboration with the SSMRC, our partnering contractors have been tuned into BlueOval City and taking action to win work since the project was announced.
Ken Groat, project manager/estimator for International Industrial Contracting, said the company hopes to install process equipment in the battery plant and in the stamping-press, body-shop, and general-assembly areas of the truck plant.
"There will be multiple different bid packages that we will have opportunities to go after," Groat said.
International Industrial Contracting has worked in Ford facilities in the past. In 2021, the company installed equipment in the stamping-press area of the Ford Kentucky Truck Plant in Louisville.
Alltech Engineering Corp, another SSMRC partnering contractor, works primarily in robot installation and is striving to install the painting and sealer robots at the BlueOval City truck plant.
Tschida said the company that installs the robots will contract with the company or companies that manufacture the robots. In June, Ford had not yet decided which robot manufacturer(s) would supply the BlueOval City project, but Alltech Engineering Corp had pre-emptively placed bids for five potential scenarios with three different robot manufacturers.
"All of them are vying to get the work at the plant," Tschida said. "We are a vendor of theirs, and we've quoted work to put every robot in the entire paint shop all the way down to even some individual robot cells. So we've thrown a lot of quotes out there."
The robots are expected to be installed in March, April, and May of 2024, Tschida said.
Plan for meeting millwright-labor needs
At its millwright-labor peak, BlueOval City will likely require as many millwrights as Local 1554 has members, Williams said, so travelers from other parts of the SSMRC's jurisdiction and other parts of the country will be needed.
The project also presents a recruiting challenge and opportunity. "It gives us a great opportunity for recruitment and retention of apprentices," Williams said. "By the time everything is done, those apprentices will be close to being journeymen. So it'll give us a great opportunity to increase the membership, and the man-hours will be really strong, comparable to when they built the GM Spring Hill plant back in the '90s."
In anticipation of the BlueOval project, Local 1554 began ramping up recruiting efforts in the greater Memphis area more than a year ago. Business agents have been attending all the job fairs and career days they can and targeting employees who might be a good fit for the millwright trade and are working at facilities that are closing. For instance, Williams attended a job fair in June for workers at a Memphis Electrolux plant that is shutting down.
The local also is working with UBC Job Corps, a pre-apprenticeship program the UBC operates in collaboration with the U.S. Labor Department. UBC Job Corps provides hands-on training to participants who also receive career-planning advice, medical care and other services. Graduates can be placed in millwright apprenticeships.
Shift to EVs means years of millwright work in the South
The BlueOval City project is part of a larger shift toward electric vehicles, Williams said, and because so many auto makers have announced plans to build EV plants in the South, he expects robust recruiting opportunities and work hours across the SSMRC for years to come.
"I think the demand for EVs is going to far outstrip demand for gas-powered vehicles, and therefore it's going to keep production very strong, and that will involve keeping millwrights busy to maintain that equipment and to do change-overs for new models. We've seen the consumer demand with Tesla. And now that's translating to the other car manufacturers saying they're going to build more affordable EVs."
In addition to Ford's BlueOval City and Tesla's recently opened Gigafactory near Austin, Texas, Hyundai Motor Group announced in May it will invest $5.54 billion in an electric-vehicle and battery-manufacturing facility near Savannah, Georgia. It will be Georgia's largest-ever economic-development project and Hyundai's first site to focus exclusively on electric vehicles. Startup Rivian Automotive also will build in Georgia. The company announced in December plans to locate a $5-billion, electric-pickup-truck plant east of Atlanta.
Ford has stated it expects 40% to 50% of its global vehicle volume to be fully electric by 2030, and other automakers have similar goals.
After they're constructed, the new EV plants will mean more long-term maintenance work for millwrights through shutdowns and the need for permanent maintenance staff.
How to work at BlueOval City
If you want to work at BlueOval City, you should start preparing now. Contact your training department and make sure you have all the certifications that would make you marketable to the automotive industry.
The new training center near Nashville is equipped with state-of-the-art robot stations and a conveyor training area geared toward the automotive industry. Other skill codes that will be required or desired include rigging, precision alignment, welding, aerial lift, and forklift. Your safety training needs to be up to date as well.
"For all the members out there, whether they're a new member or a journeyman, they will want to go get their classes and everything upgraded because the people who are going to be the highest in demand are the people with the most skills," Williams said.
Tschida echoes William's advice. "This is going to be one of those sites that require contractors to have certified welders and workers who've got their rigging certifications and first-aid, CPR, and confined spaces training and aerial-lift cards, and more," he said. "They want us to send training records for each employee, so if you want to be the most employable, get into your local training center and make sure everything's current."
Learn more about BlueOval City.