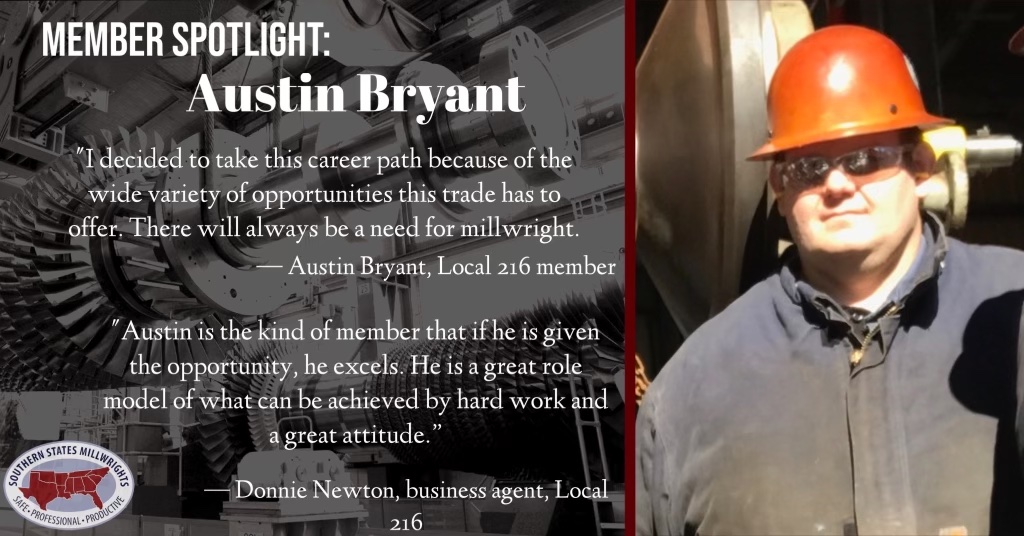 From a young age, Local 216's Austin Bryant knew he was destined to work in the construction industry.
While in high school, Bryant completed two machine shop classes where he learned how to run lathes and mills along with designing and manufacturing components. After taking some time to attend community college and the economic collapse in 2008, Bryant chose to pursue a career in machining with a tool and dye mechanic shop. After working under a master machinist for two years, Bryant decided it was time for a career change. In 2015, Bryant began his career as a millwright. During the early stages of his career, he worked for many union partnering contractors installing or repairing pumps, motors, and drive systems at papermills in Alabama and Arkansas. After working in this position for a while, he moved on to his next opportunity rebuilding steam turbines. When Hurricane Harvey hit, it left significant damage to the petrochemical plants in the Gulf. Bryant had the opportunity to work on a repair crew fixing compressors, turbines, pumps, and motors that were damaged during the storm and decided to stay with petro chem work. Over the last two years, he has been working with Elliot as a compressor mechanic foreman working on compressors and steam turbine major valve replacements and getting on the job training on the technical and OEM aspects of the machinery.
Local 216 Business Agent, Donnie Newton, recommended Bryant as the September spotlight member. "Austin is the kind of member that if he is given the opportunity he excels. He is a great role model of what can be achieved by hard work and a great attitude," Newton said.
Learn more about Bryant through his answers to the questions below.
Q: What do you like most about being part of Local 216?
A: Local 216 does a great job getting apprentices started off on the right track and supporting them through their apprenticeship. I am the first person in my family to join the union. At first, I was lost on how the union operated and how they blended training and work together. Between insight from instructors, fellow 216 brothers and stewards watching out for apprentices, I was prepared to be successful in this trade.
Q: What made you decide to join the union and work as a millwright?
A: I decided to take this career path because of the wide variety of opportunities this trade has to offer. There will always be a need for millwrights. America has always been a world-class manufacturing country and I feel privileged to help keep it running.
Q: How did you learn about the millwright trade?
A: I found out about the millwright trade from operating engineers while interviewing for an apprenticeship program. I completed a test and interview to be considered for their program and was told that I would most likely become bored due to the lack of challenge. The director of that program mentioned the millwright trade would more than likely be a better fit for me due to my background and put me in contact with Local 216 Business Agent, Donnie Newton. After talking with Mr. Newton in Oklahoma City, I realized the endless opportunities throughout the industry that would present challenges, while allowing me to travel and learn.
Q: What are your long-term goals working in this trade?
A: I'm working on becoming a better foreman and hopefully an OEM tech representative for compressors and turbines. Having been a foreman on several larger jobs and seeing the technical knowledge required, I have really enjoyed studying the details and requirements of high-speed machinery and being able to develop and implement plans to fix damaged and worn equipment.
Q: Were you able to stay close to home with this trade?
A: Due to my choice to follow petrochemical, I have found myself traveling more than I am at home. However, being able to separate work and home is a big benefit to working in this career. When I'm home, I am free to relax and enjoy time off.
Q: What do you feel are some perks of being a member of the UBC?
A: Being in the UBC gives me a variety of opportunities, while presenting challenges that are not common in other types of work. Individuals are only limited on what they can accomplish by themselves, and success is only limited by how much effort and drive you put into it. The UBC has great benefits along with retirement. The UBC also believes in maintaining a safe workplace for all its members.
Since joining Local 216, Bryant has helped the local gain work from contractors through his skill and knowledge of the petrochemical industry. He has also recruited other members to join the brotherhood.
"Austin has been an integral part of the SSMRC's push to build a stronger relationship with Elliott Group in the South," Western Regional Director, James Rowland said. "His knowledge, drive, and great attitude has helped us be successful on multiple projects with Elliott and those successes have opened up further opportunities for our members to gain work."