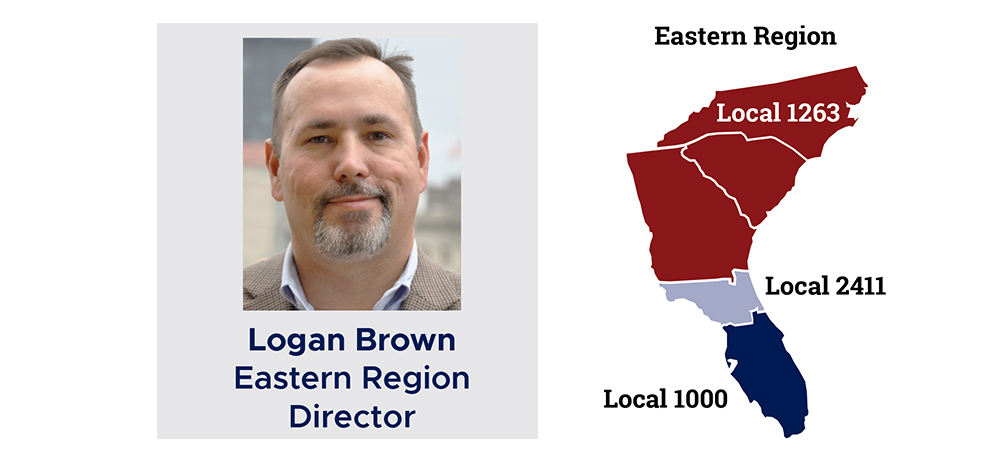 Local 1000:
We are working several power-generation jobs with SGS, APM, O'Connor Corporation, and Airco.
We have also started working on projects at Fort Lauderdale airports with Jordim.
Projects in phosphate industry with Central Maintenance, Gulf Coast Industrial, and JKF have started. There is an ongoing need for millwrights with phosphate mine cards.
A&B maintenance work at Gopher Recycling is ongoing.
We are working in a shingle facility (GAF) for Central Maintenance and Welding.
We have been doing maintenance and some new installs of equipment in several operational Amazon facilities in Central and South Florida.
W Soule is working in food and beverage facilities across the state of Florida.
CR Meyer has ongoing projects at a cardboard facility.
BHI Nuclear is working maintenance at St. Lucie.
For more information, contact business agent, Cliff Tucker at (813)-626-1119.
Local 2411:
Coker is currently working on various opportunities around the area. They are continuing to pursue outages locally. They are also looking to secure an additional journey level millwright to split foreman roles.
Milton J. Wood is currently keeping its year-round employees busy, actively pursuing more work. They are also looking forward to a busy fall outage season and possible projects around the state.
J Williams is continuing its efforts in procuring more local outages. They are working the outage every Monday at USG, and every other Wednesday at Westrock EP.
GenIndustrial is looking to add about four millwrights toward the end of the year in Green Cove.
Cogburn has secured mission mine supplemental help as well as Owens Corning.
APM is going to be looking for millwrights, and experienced turbine mechanics around the state. October 3 is the current start date for JEA Kennedy and will be looking to add 5 day shift millwrights to that project and possibly 5 more on night shift around October 25, this will be a major project that should last around 60 days.
Doral is bidding on an Amazon project coming up in Ocala. We will be looking to secure work around the first of the year.
Vigneaux Company is still looking for an airport conveyor millwright to work permanently. Forty hours per week guaranteed with the opportunity for overtime. Must be willing to travel.
Small jobs are popping up all over the South Georgia. Manpower is needed to take advantage of these opportunities.
For more information, contact business agent, Robert Jeffers at (904)-303-2691.
Local 1263:
Icon – Cargill, Gainesville is in need of 6 journeymen for ongoing equipment installation.
Cleveland Electric is working on an ongoing maintenance project adding 2 members at AB.
RCC – Plant Vogtle work in Waynesboro, Georgia, is ongoing.
Player – Shop work is ongoing.
Action – Work in the shop is ongoing and 3 members have been added to the project.
IAM- Ball Canning Plant in Rome added 7 members to the project. As the scope continues to grow, work is expected to be ongoing.
Industrial Air Maintenance at Creative Flooring 1 member is needed for shop work.
Vulcan – Plant Bowen added 1 member for maintenance. Work is ongoing
Ethos Energy – 3 members are needed for approximately 2 weeks at Siemens Tucker Facility.
Southway Contracting – 6 members are needed for shop & long-term work.
Ethos Energy- 4 members are needed for a 3-week outage at Graphic Packaging in Augusta.
Siemens- Fourteen members for are needed for approximately 10 weeks at Chattahoochee.
Griffin Industrial – Work is ongoing Eden, North Carolina at Nestle Purina.
Siemens -Lincoln County power is in need of 6 members on experimental unit ongoing
Superior- Work at Nestle Purina Eden, North Carolina is ongoing.
PSC Crane and Rigging- Work is ongoing at Nestle Purina Eden, North Carolina.
FA Wilhelm – Work is ongoing at Eli Lily Durham, North Carolina.
ASI- Work at the Columbia, South Carolina Airport is ongoing.
Western Industrial at USPS Atlanta: Demo job for approximately 50 millwrights for a length of 6 months. Tentative start date is still being determined.
APM: Return work at Addison.
Airco Power – Plant Mcintosh in Rincon, Georgia began work on September 16th.
Siemens – WS Lee in Belton, South Carolina is expected to have work in early November.
CR Meyer – Grief Paper in Taylors, South Carolina is expected to have work starting soon.
Airco Industrial – Numerous opportunities are available for work in South Georgia.
For more information, members are encouraged to reach out to business agents Robert Strickland (770)-795-1263 or Charles Smith (704)-286-1263.