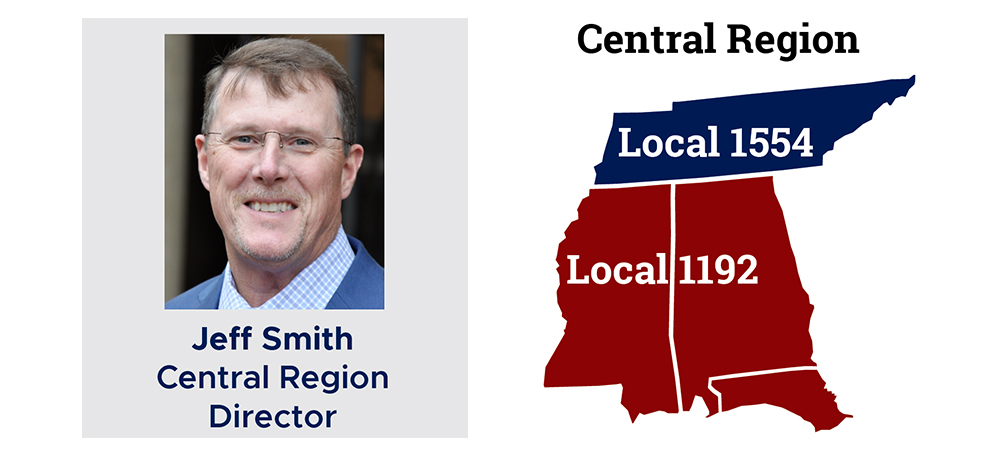 Fall outage work is looking to be very busy for our members across the Central Region.
New members in the Central Region are needed as more working opportunities present themselves.
Millwrights are in high demand across our eleven-state footprint as we have a tremendous amount of work.
Please reach out to your business agent and put yourself on the out-of-work list if you are available for work. If you are traveling outside of your home local jurisdiction for work, check in with the local that has jurisdiction where you are procuring employment.
Please take advantage of all opportunities to enhance your skill sets through the training department.
The Central Region is working with the following contractors at the facilities listed below.
Alabama / Mississippi / FL Panhandle
CR Meyer has launched their project at Packaging Corporation in Jackson, Alabama, which is expected to be 7-8 weeks in duration.
Atlantic Plant Maintenance and Day & Zimmerman both have projects kicking off in Wilsonville that should last through most of the Fall.
Mammoet kicked off another project at the Destin Airport, with a duration of 30 days.
Siemens has kicked off a project at Plant Daniels in Moss Point, Mississippi, which is expected to last roughly 35 days.
Iron Mountain is preparing to start a project at U.S. Steel in Birmingham, Alabama.
Toyota Engine Plant has a 3 month project starting October 15, that will need 30 millwrights for roughly 90 days.
Tennessee
GUBMK is getting underway at TVA Cumberland City. GUMBK needs roughly 25 millwrights for 60 days to work a 7/12 schedule.
Walbridge has kicked off its project at Walmart employing 10 millwrights that should last through 2022.
TVA Allen and Lagoon Creek will have outages that will need roughly 40 or more millwrights beginning in October.
Jake Marshall has an upcoming 30 day project at GESTAMP. They will need 4 millwrights to start.
Superior Electric has full-time positions at Bridgestone, Lavergne. If interested, please call Steve Williams at local 1554.
Work in Stanton for Ford's Blue Oval City looks to start right after the first of 2023, which should eventually employ up to 700 millwrights.
For more information, members are encouraged to reach out the the business agent in their area.
Local 1554: Steve Williams (615)-874-8591 or William Condon (423)-485-3466.
Local 1192: Clint Smith (205)-836-6734 or Lessie Roberts (251)-479-1415