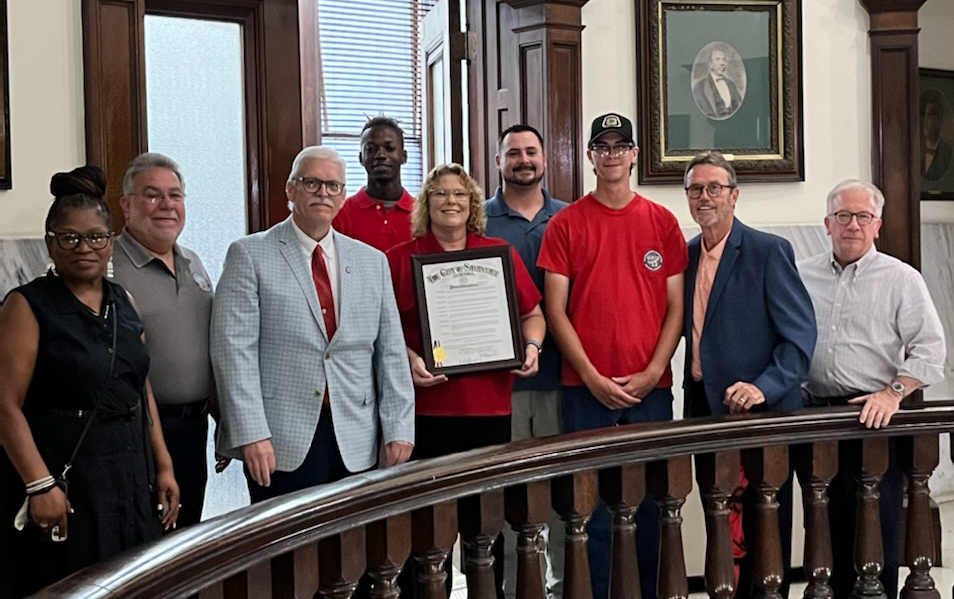 The mayor of Savannah, Georgia, has declared the week of Labor Day to be Labor Week in that municipality. "I want to thank those who work hard in our community," Mayor Van Johnson said at an Aug. 25 event announcing Labor Week.
The United Brotherhood of Carpenters, Savannah Building Trades, and Savannah Regional Central Labor Council worked with the pro-labor mayor's office to draft and enact the Labor Week proclamation.
"It makes so much sense for the city of Savannah to have a partnership with the labor community," Johnson said. "We will ensure, by working together, better pay, safer work, and benefit opportunities for the people of Savannah through apprenticeships and job-training programs that the affiliates represented here today already do so well."
Robert Jeffers, a business agent for the Southern States Millwright Regional Council, Brett Hulme, communications and political director for the Southeastern Carpenters Regional Council, Meddy Settles, an SCRC business agent, Sean Presburg, an apprentice from Local 256, and Curtis Watson, an apprentice from Local 256, represented the UBC at the event. Members of the labor groups spoke on behalf of their organizations.
"We've brought in apprentices to build Savannah Arena, an addition to City Hall, and Jepson Center," Jeffers said after the event. "All that's been built with union labor. I'm involved in several city councils, and I've never witnessed a mayor speak up on behalf of organized labor. It's really big in Savannah and I think it's going to help out with the new Hyundai plant."
Hyundai announced in May plans to build a $5.5 billion electric-vehicle-assembly plant and EV battery factory in Bryan County, Georgia, near Savannah.
The mayor's office has committed to issuing a Labor Week proclamation every year that Johnson is in office.