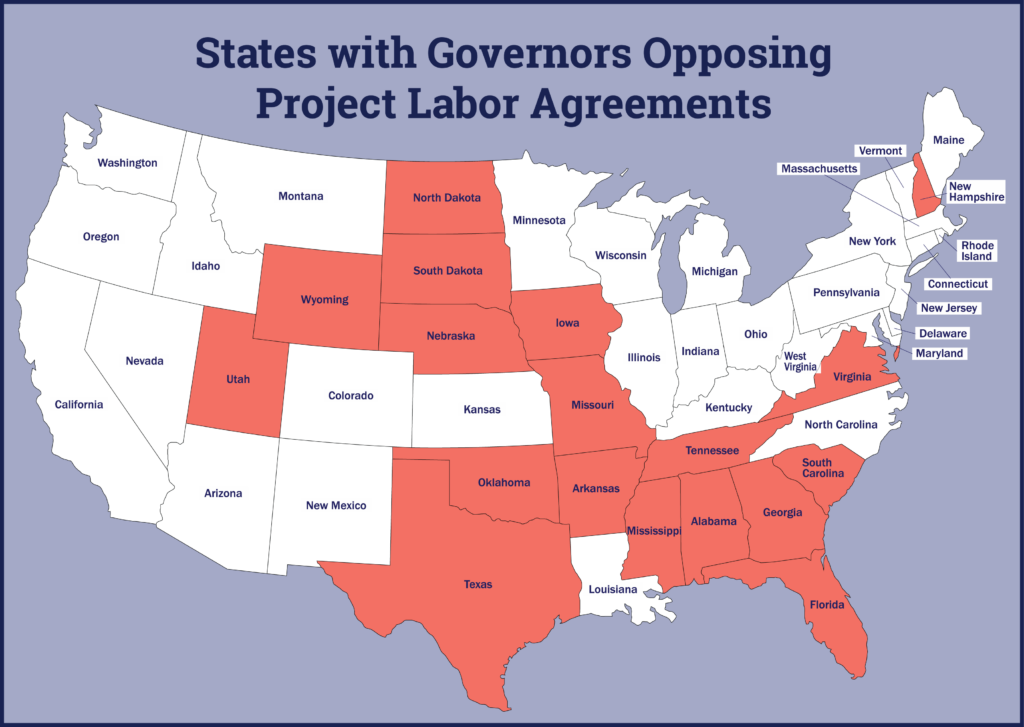 Governors of nine states in the SSMRC's 11-state jurisdiction have signed a letter opposing an executive order issued in February that requires project labor agreements on large, federally funded construction projects.
Project labor agreements are collective bargaining agreements between employees and employers that identify wages, employment conditions, and dispute-resolution processes. The agreements generally require contractors to hire local workers and to compensate them according to area prevailing wages.
Eighteen Republican governors of states including Alabama, Arkansas, Georgia, Florida, Mississippi, Oklahoma, South Carolina, Tennessee, and Texas (see complete list below) have signed the letter, which asks the president to retract the executive order requiring PLAs on federal construction projects that cost more than $35 million.
"The governor of Alabama fought the PLA for the Mazda Toyota job every step of the way," said Clint Smith, business agent for Millwright Local 1192. "The ABC [Associated Builders and Contractors] even flew her to Japan to speak to Toyota personally. They don't like PLAs because they force unethical contractors to pay a fair wage and benefit package. PLAs make it tougher for them to cheat their employees out of money."
At the Mazda Toyota Manufacturing plant in Huntsville, Alabama, approximately 600 SSMRC millwrights have worked with almost 25 contractors since January 2020. Illegal practices that harm workers, law-abiding contractors, taxpayers, and communities – such as paying employees off the books and misclassifying them as independent contractors – are much less likely to occur on projects with PLAs.
The PLA requirement applies to millwright work involved in construction, maintenance, and upgrades of nuclear sites, airports, and water infrastructure. Based on 2021 figures, the order is expected to improve job quality for 200,000 workers and affect $262 billion in federal government projects. It also will help level the playing field for the SSMRC's signatory contractors who work on those projects and won't be forced to compete with law-breaking contractors who lower their bids by cheating workers and avoiding paying employment taxes.
The 18 governors claim in their letter that PLAs cause project delays, discourage competition from nonunion contractors and their employees, and increase costs. To the contrary, PLAs minimize work disruptions by improving coordination among multiple contractors and subcontractors on large projects. A study by Fred B. Kotler, associate director of the Construction Industry Program in the School of Industrial and Labor Relations at Cornell University, found that PLAs do not discriminate against non-union contractors and workers, limit the pool of bidders, or raise construction costs.
"PLAs have been demonstrated to be a very useful construction management tool for cost savings, for on-time, on-budget, and quality construction," the study states.
Read the governors' letter here. Governors who signed the letter are: Asa Hutchinson (AR), Bill Lee (TN), Kay Ivey (AL), Ron DeSantis (FL), Brian Kemp (GA), Kim Reynolds (IA), Tate Reeves (MS), Mike Parson (MO), Pete Ricketts (NE), Chris Sununu (NH), Doug Burgum (ND), Kevin Stitt (OK), Henry McMaster (SC), Kristi Noem (SD), Greg Abbott (TX), Spencer Cox (UT), Glenn Youngkin (VA), and Mark Gordon (WY).