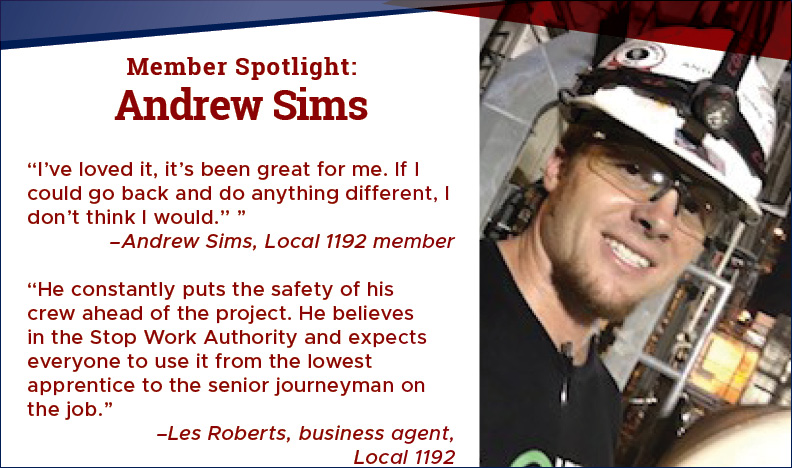 Local 1192 member Andrew Sims has been a member of the SSMRC for nearly 20 years and a field superintendent for nearly a decade, and his commitment to safety for his fellow millwrights has led to recognitions from Atlantic Plant Maintenance.
Local 1192 Business Representative Les Roberts said Sims has a vast amount of knowledge of the GE 7FA Gas Turbine, and he puts a priority on safety on each of his projects.
"He constantly puts the safety of his crew ahead of the project," Roberts said. "He believes in the Stop Work Authority and expects everyone to use it from the lowest apprentice to the senior journeyman on the job."
Sims was born and raised in Pell City, Ala., and first heard of the SSMRC in 2003 when a friend's father — who was a millwright himself — recommended he look into the union as a career option.
Before joining the union, Sims had worked for a short time as a landscaper and then doing maintenance for a campground and marina, and said the advantages of being in a union have kept him satisfied as he worked his way up to his current position.
"The benefits and the pay are much better," he said. "Plus the brotherhood, and camaraderie and meeting new people."
Looking back to when he first joined, Sims said he has no regrets about becoming a millwright.
"I've loved it, it's been great for me," he said. "If I could go back and do anything different, I don't think I would."
At the time, Honda was in the process of building the second phase of its plant in nearby Lincoln, Ala., and the council was looking for more millwrights to help fill the need for workers.
Sims started his time as a millwright working at the Honda plant before moving into coal plants like the Gaston Plant in Wilsonville, Ala., and then moving into turbines — where he has continued to work for the same contractor for most of his time in the SSMRC.
"In 2005, I started working with Atlantic Plant Maintenance, and that's primarily been my contractor of choice since," he said.
Nine years ago, he became a field superintendent for APM, and as part of that job, he works with a lot of the council's business agents to man projects and make sure completion dates are met.
In 2017, he received a Vice Presidential award winner from APM, which focuses on adherence to five categories: safety, quality, delivery cycle, cost, and productivity.
He is also due to receive some additional recognition from APM in the near future after he recently caught a safety issue that could have caused injury to another worker. While inspecting an area for proper lockout/tagout procedures before millwrights went to work on equipment, he found a piece of equipment that had not been disabled safely.
"I brought it to the engineer's attention, and he brought it to the plant's attention, and they corrected that," he said.
Right now, Sims is working in McCallen, Texas at a gas plant that is undergoing a major inspection and rotor replacement, but when he is not on the job, he lives in Livingston, La. with his wife, daughter and two sons.
Sims said he plans to continue working with millwrights as a field superintendent or a craft labor superintendent, and one thing he knows for sure is that he wants to stay out in the field.
"I really enjoy it," he said. "I actually stepped away for about six months and tried to be a service manager for APM, but I found out that I didn't like that very much, so I left and came back to the field."