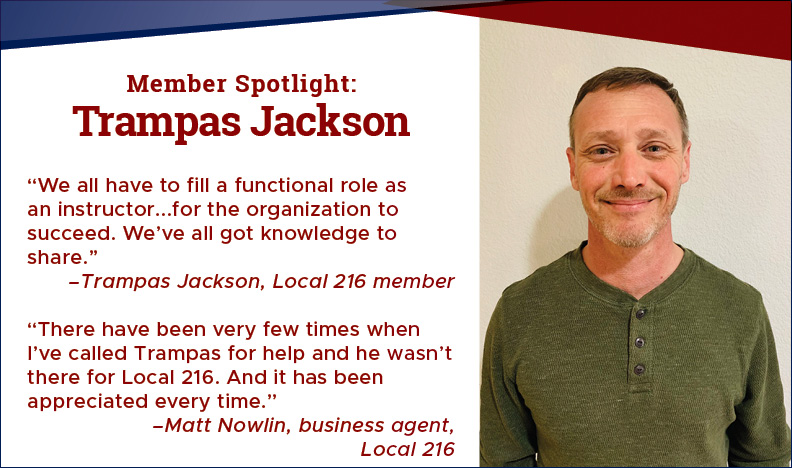 Until 2018, Local 216 journeyman Trampas Jackson had spent all of his adult life serving in the military or in a federal job, but when it came time to chart a new course in his life, he chose the work of a millwright in the SSMRC.
Local 216 Business Representative Matt Nowlin said Jackson hit the ground running when he joined the union, and he hasn't slowed down.
"He has helped out Local 216 on some projects that were a challenge for us with available manpower, and he stepped up at our last election and ran for office," Nowlin said. "There have been very few times when I've called Trampas for help and he wasn't there for Local 216. And it has been appreciated every time."
Before joining the SSMRC, Jackson was a federal technician supervisor for the Arkansas Army National Guard in Russellville, Arkansas, and the field maintenance shop he maintained was around a mile down the road from Russellville's millwright and carpenter training center.
Because his federal position required him to be a member of the National Guard, when he began approaching retirement after 22 years of service, he knew he would have to find another line of work.
He had driven by the Russellville Training Center enough times to be curious about what the union had to offer, and decided to stop by the center a few months before his retirement, and spoke with Nowlin and some of the instructors about joining.
Jackson said he didn't have a degree at the time, and looking at his career options with his experience in heavy diesel maintenance showed him that joining the SSMRC would be a good decision.
"It was a lot easier than filling out resumes and trying to get into a job with my background," he said. "Starting out at ground level, looking at what the union had to offer versus where I was going to have to start over again seemed to work out."
Once he made the decision to join the SSMRC, he was able to make an immediate transition into the union after the conclusion of his military service.
"After talking to them, I retired on April 30 of 2018 and on May 1, I was in class," he said.
After joining the union and receiving training to familiarize himself in industrial maintenance to add on to his prior knowledge, he found that the transition into the SSMRC was not too difficult.
"It was easy," he said. "The organization of it is not much different than, say, a military organization the way you have it structured like the union has it structured."
His first job in July of 2018 was at a local mill, Bemis, which is now Amcor, working for C.R. Meyer performing general maintenance projects. In August of 2018, he earned a foreman position and ran a small maintenance crew at Kimberly-Clark's facility in Conway, Arkansas for three years. He also assisted the superintendent with the Kimberly-Clark facility located in Maumelle, Arkansas, and has worked a few paper mill jobs, a few other short-term local jobs.
He said his work has been mainly small jobs, but he did have the chance to work in the new construction of a steel mill in Blytheville, Arkansas.
"I really like the alignment stuff with new construction, because it really gives you the full facet of what a millwright does," he said. "You have to do everything from the ground up."
Jackson has also worked as a part-time instructor in Russellville to help teach the trade to his fellow members, and said he believes all millwrights act as instructors to the others around, whether that's in a formal setting in a classroom or out in the field.
"We all have to fill a functional role as an instructor, whether you're a journeyman an apprentice or whatever, for the organization to succeed," he said. "We've all got knowledge to share."
That desire to teach those around him also stems from Jackson's military service.
"In the military, once you reach a certain rank and a certain level, you are pretty much required to be a teacher, because you're developing the organization, and that's where it all comes from, is practitioner-based sharing of knowledge," he said. "If you're not doing that, in my aspect, you're not really contributing to the organization."
Since joining the SSMRC, Jackson has also been able to continue his education. He graduated from the University of Charleston in West Virginia with an associate's degree in front-line leadership, and is currently attending the same university for a bachelor's degree in organizational leadership. He has also been accepted to attend Arkansas Tech's Russellville campus in the fall to earn a certificate in professional leadership.
Jackson said his continued education is meant to make him a better leader in the union, and he is planning to seek a role in a leadership position or potentially continue working as an instructor.
"I'm 45, and I'm not looking forward to being 50 years old dragging toolboxes around and all that other stuff, so once I complete my bachelor's degree I'm going to look at working as a project manager or something along that line of a role," he said. "And if I'm able to contribute back as an instructor, I'm looking forward to doing that too."