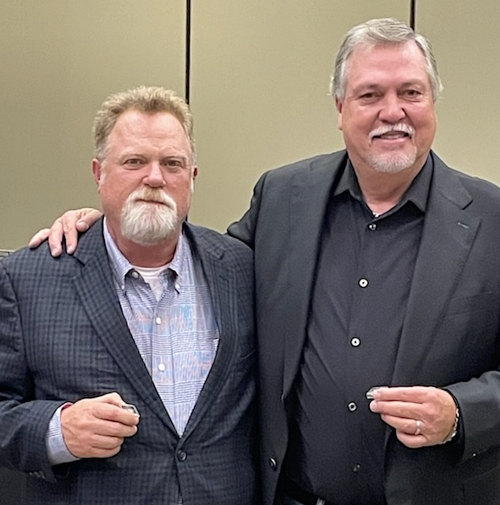 Congratulations to the UBC Southern District Vice President Dennis Donahou for earning his 45-year service pin, marking the amount of time he has remained a member in good standing with the UBC.
Dennis Donahou is one of the most respected leaders of the Southern USA labor industry. As UBC Southern District Vice-President, Donahou oversees thousands of carpenters and millwrights throughout the 11 southern states, from the Carolinas along the Atlantic and Gulf coasts over to Texas. He has launched and steered many programs that help working families earn a good quality of life through strategies that have become templates for carpenters throughout North America.
A member of the UBC since 1976, Donahou worked as a journeyman millwright, foreman, general foreman and superintendent on many nuclear and coal-burning power plants and paper mills throughout the United States.
In 1991, he was elected business representative for Local 1836 in Russellville until acquiring the EST position of the Arkansas Regional Council a few years later, where he deftly handled the addition of Oklahoma to create the new Arkansas-Oklahoma Regional Council.
In 2010, Dennis was named the founding Executive Secretary-Treasurer of the newly formed Southern States Millwright Regional Council (SSMRC), taking 5000+ professional millwrights from a startup organization to one of the busiest and most in-demand labor resources for America's Southern states.
By pulling together 11 states under one roof, the SSMRC created a mobility of manpower that allowed contractors to access qualified workers from across the Council, when they were previously limited to local areas. Donahou also implemented standardized training across the Council, enabling any member to access the same training at any training center throughout the Council.
In 2015, Donahou began his tenure as the UBC Southern District Vice-President. He was unanimously elected to the post at the UBC's 2015 General Convention and gained re-election at the 2020 UBC General Convention. Highlights of his time as DVP include overseeing steady growth in manhours and membership throughout the District, and successful launches of solar installation, healthcare construction, and flooring programs throughout the District.
Learn more about Donahou here: http://ubcsoutherndistrict.com/district-vice-president-message/