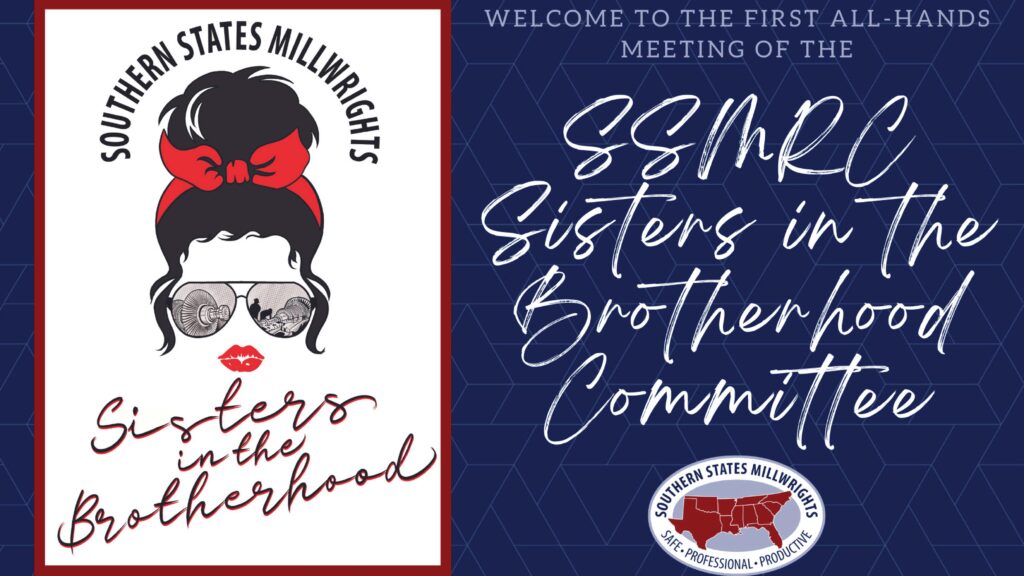 The first SSMRC Sisters in the Brotherhood Committee meeting was a great success. Forty-three sisters from across the South attended the virtual meeting held on Jan. 4 from 7 p.m. to 9 p.m. Central Time.
Shanta Prude, SIB committee coordinator for the United Brotherhood of Carpenters' Southern District, kicked off the meeting, and SSMRC Executive Secretary Treasurer Wayne Jennings expressed the council's support of the new SIB committee and encouraged SSMRC sisters to create goals for the committee, including goals that involve recruiting and retaining more female members.
"I promise — and I don't make many promises — that the Southern States Millwrights will back this committee as much as we can," Jennings said. "We will support this SIB committee to the fullest. At the end of the day, my challenge is for you ladies to create a budget and send me a budget request for enough money to tackle some of the initiatives your committee will come up with."
The SSMRC began building a SIB committee in mid-2021. Our committee is part of the United Brotherhood of Carpenters' SIB program, which supports members by: providing assistance in obtaining craft training and leadership skills; being advocates on women's issues; and mentoring new and potential members. Regional councils and local unions create and manage their own SIB committees.
During the Jan. 4 meeting, members of an SSMRC SIB Committee leadership group introduced themselves. This group of women spent months planning the meeting, which also included a panel discussion and question-and-answer session with three female SSMRC members: an apprentice, a journey-level member, and a retired member. Attendees chose among three breakout rooms that focused on self-care, community service, and how women can support each other on jobsites. Meeting participants also were able to network informally once the planned programming was completed.
Thank you to all those who attended. If you weren't able to join us, we hope to see you at a future SIB Committee meeting. We will hold quarterly meetings going forward, and registration notifications will be posted on social media and sent via email and text.
If you are an SSMRC sister and haven't done these things already, please fill out the SIB Committee interest form and request to join our SSMRC SIB Facebook group.