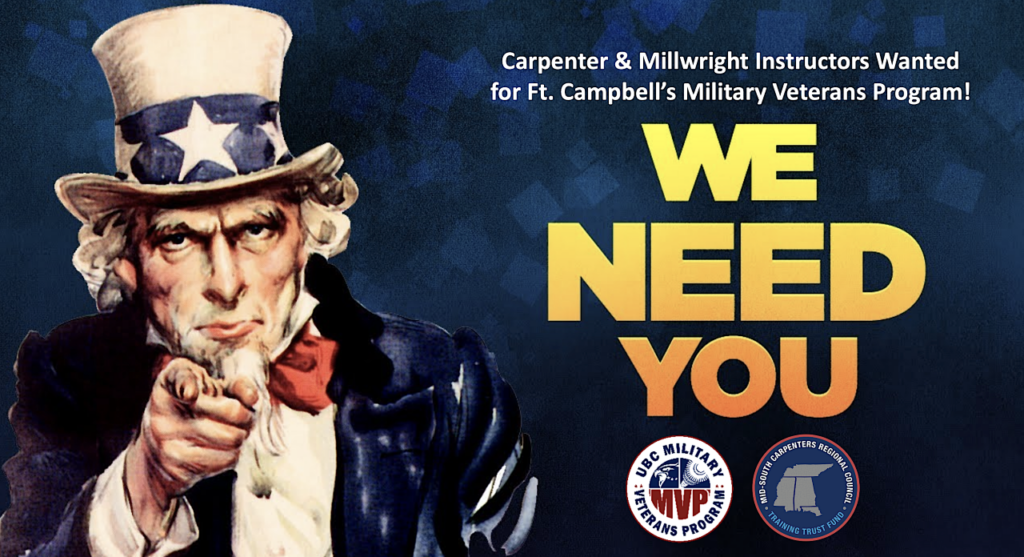 The Mid-South Carpenters Regional Council Training Trust Fund is considering hiring one full-time instructor and one part-time instructor to deliver carpenter and millwright craft training through the United Brotherhood of Carpenters' Military Veterans Program at the Army base in Fort Campbell, Kentucky. Wages will be approximately $36.74 per hour.
The full-time position is based on a 40-hour work week, 52 weeks per year, with incentives and a raise to come within 6 months, based on performance. A substantial benefit package, along with paid holidays, vacation, and sick days, is also included.
If selected, the applicant must be able to assume the position as early as Jan. 31. All resumes must be received by Jan. 7.
Applicants' resumes will be reviewed, and a short list of applicants will be notified of time and place of interview.
Basic requirements for the position are:
Minimum of 5 continuous years of experience in the craft
Classification as journey level with good standing status on union dues
Reside within a reasonable commute of Fort Campbell, Kentucky
Extensive working knowledge of the craft
Working knowledge in basic computer software (i.e. Microsoft Word, Excel, PowerPoint, Outlook, etc.)
Good communication skills
Professional attitude
A valid driver's license
No felony records
Although not required, other factors that may be considered are:
Candidate is bilingual
Candidate served in an approved registered apprenticeship program
Previous experience in craft instruction
"Train the Trainer" qualifications from the UBC International Training Center
Employer references
Individual craft training history
Prior military service
Individuals who meet the basic requirements and are interested in the position should send their resumes to Rickey Moore, director of the Mid-South Carpenters Regional Council Training Trust Fund, at rmoore@mscrcttf.org.