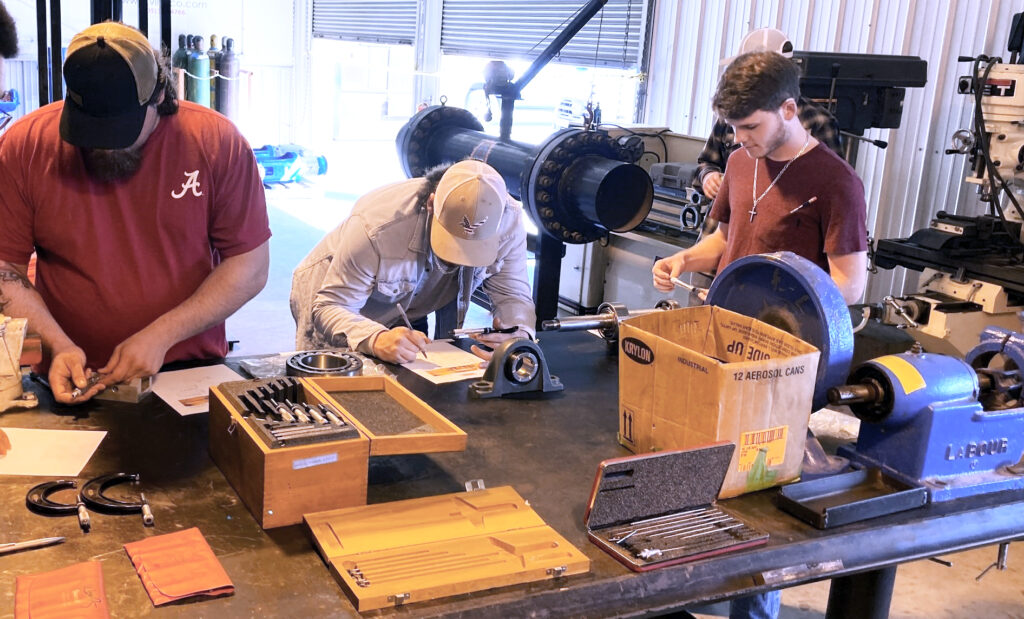 Millwright apprentices in the Savannah, Georgia, area and their families celebrated a day of fun and information at the Savannah training center on Dec. 4. Forty apprentices and more than 25 family members, friends, and walk-ins participated in Apprentice Appreciation Day.
The apprentices joined Jessie Patterson, coordinator/ instructor for the Savannah millwrights, as well as the Shon Douglas, training director, that morning to pick up their schedules and go over apprenticeship expectations for the next year. They met with Robert Strickland, the new business agent for Local 1263, as well as Local 1263 Business Agent Charlie Smith and SSMRC Eastern Region Director Logan Brown. Strickland, Smith, and Brown spoke and answered apprentices' questions.
After the meeting, families toured the shop and training center to learn about their loved ones' careers. People interested in a millwright career also toured the facility and learned how to become union millwright. The Southeastern Carpenters Training Trust provided lunch.
Two apprentice competitions were then held, with the SSMRC providing prizes. Families, friends, and union brothers and sisters cheered on and watched their peers during the contests.
Participants in the Precision Measurement Contest were Matthew Barwick, Austin Edenfield, Jordan Griffin, Micheal Mack, and Kory Price. Price came in first place, winning a 0-1" Starrett Micrometer and a set of Feeler Gauges. Mack came in second place, winning a $50 gift card.
Entered in the Welding Competition were Jordan Griffin, Micheal Mack, Kory Price and David Sanchez. Our Eastern Region Director Logan Brown got in a booth to demonstrate his welding skills, even though he was not registered in the competition. Coming in first place was Griffin, winning a Lincoln Electric 3350 Series Auto-Darkening Welding Helmet. Price came in second place, winning a $50 gift card.
Thank you to all those who participated in the event and made it a success.