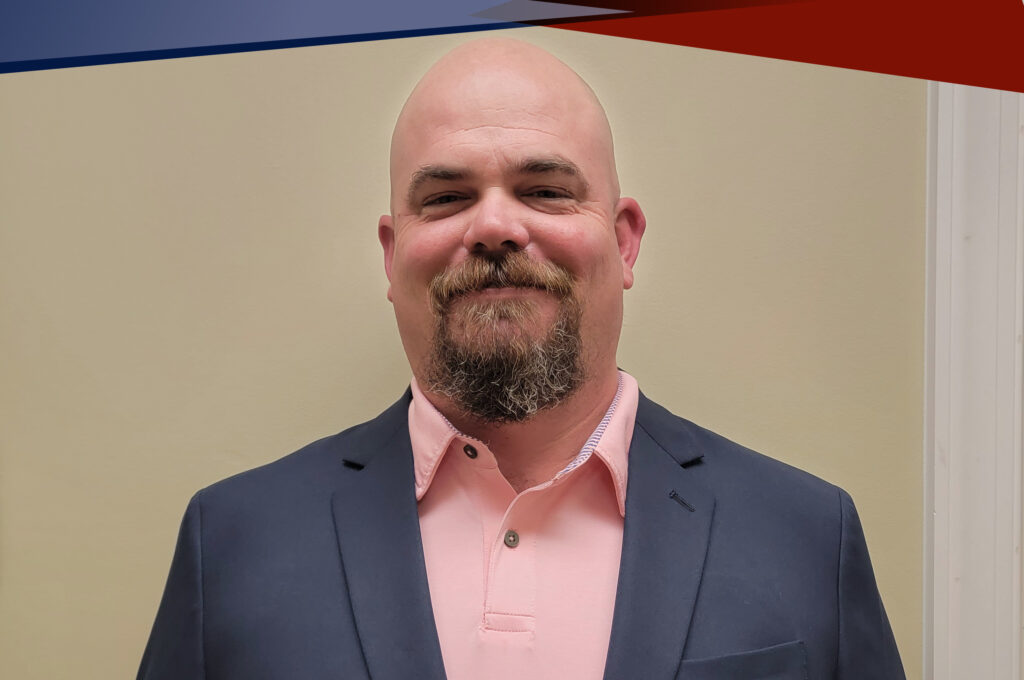 Robert Strickland, a former Marine and an eight-year member of Local 1263, which covers Georgia and the Carolinas, began working as a business agent for that local in September.
Strickland said he will draw on his experiences in the field to help him as a business agent. "When things don't go exactly right, it's not always your work partner," he said. "Sometimes there are things you need to correct with yourself. So being able to adapt and interface with the members and build rapport with the contractors, being that median, will be a strong part of continuing 1263's success."
After serving in security forces, guarding strategic warheads, in the Marine Corps, Strickland moved to Tarrytown, Georgia, an area he says was "filled with millwrights." He worked in sheet-metal fabrication and then in asset protection and management for Wal-Mart. One of his neighbors, Marion Calhoun, convinced him to give the millwright trade a try. "He said, 'If you decide that it's not for you, you can always redirect your path,'" Strickland recalls.
That was in 2013, and Strickland hasn't looked back.
Read on to learn more about his journey and his goals as business agent for Local 1263.
Q: Where did you grow up?
A: I was born in Charleston, South Carolina. I grew up in a town called Walterboro, South Carolina. I currently live in Tarrytown, and, in the near future, I'm going to be relocating to the Atlanta area.
Q: Tell us about your mechanical background.
A: My dad has been a mechanic most of his life. We actually operate a little shop in Soperton, Georgia, right now. And from the time I was five, six years old I was out helping him, turning wrenches, and that continued up into my teenage years before I joined the Marine Corps. We always had some sort of project to work on with vehicles, things of that nature. And so that's where it started.
Q: What kinds of millwright work have you done?
A: During my tenure at the local I've worked at car plants, fiberglass plants, conveyor jobs, paper mills. and then get on to the turbine side of it I spent several years working in the nucs. I worked for Siemens and Atlantic Plant Maintenance and my last four years, before accepting this new position, was out at Plant Vogtle Units 3 and 4 with TurbinePros, building those two nuclear units. My last role there was as a general foreman for Unit 3.
Q: Did you work in so many different industries intentionally?
A: The reason that I've worked so many angles of it is because I didn't want to be one dimensional. I wanted to learn pretty much every aspect or at least learn enough to be dangerous in every category. I did, however, spend more time on the nuclear side. And then outside of outage season I would do my fill-in work doing small-frame conveyor and stuff like that. And I think in taking that approach, not just limiting yourself to turbines, overall produces a better, more well-rounded millwright.
Q: Being well rounded allows you to take more job opportunities, right?
A: Yes, it does. Taking these other types of jobs means not limiting yourself to one field and saying, "I'm a turbine hand" or "I'm a conveyor mechanic" or something like that.
Q: What do you like best about millwright work?
A: The Brotherhood is similar to the military. Your road family becomes an extension of your real family, and we spend more time with those guys than we do our actual family, most times. Everybody has a story. And you meet great people along the way and end up with some great mentors.
I have one that really helped me throughout my career. His name is Mr. Ellis Griffin. He's been a millwright machinist for a long time. He really did a lot to help me throughout my career. He's got a wealth of knowledge. He doesn't mind sharing his knowledge with anyone who wants to learn. He's just a role model for anybody and everybody.
Q: What advice do you have for other members?
A: I would encourage our brothers and sisters to take advantage of the training program that we have. While you can only learn so much in the classroom, it's vital that you get those classes because when contractors don't know you, they look at your training background, and if you have that, that opens you up for more job opportunities. And of course the more you are out in the field, the more hands-on experience you get, the better off you're going to be as far as your efficiency and your success in the career.
Q: Have you held any leadership positions within the local or the UBC before and have you taken any of the UBC leadership classes?
A: Yes I have. I have been a job steward, a foreman, and a general foreman throughout my career. And I also have attended the two journeyman leadership classes at the International Training Center in Las Vegas. Both of those were great learning experiences as well.
Q: What are your goals as Local 1263 business agent?
A: I want to build on what 1263 currently has. I want to make sure that members feel confident in knowing that the support is there for them just as much as it is for our signatory contractors. And I think that would be the key to success: being transparent with the members and staying open for ideas. I've learned over my career that there may be a brand new, first-year apprentice that has an idea that actually makes sense. I want to be open to these communication lines and open to ideas so we can collectively grow and be successful together.
Q: Do you have any children?
A: I have two sons. My oldest turned 15 Sept. 8. And my youngest is 12 years old. They're both great kids, and they're getting to the age where they're going to be deciding their career paths here in the near future. I would be very much excited if they decided to take on this career path as well.