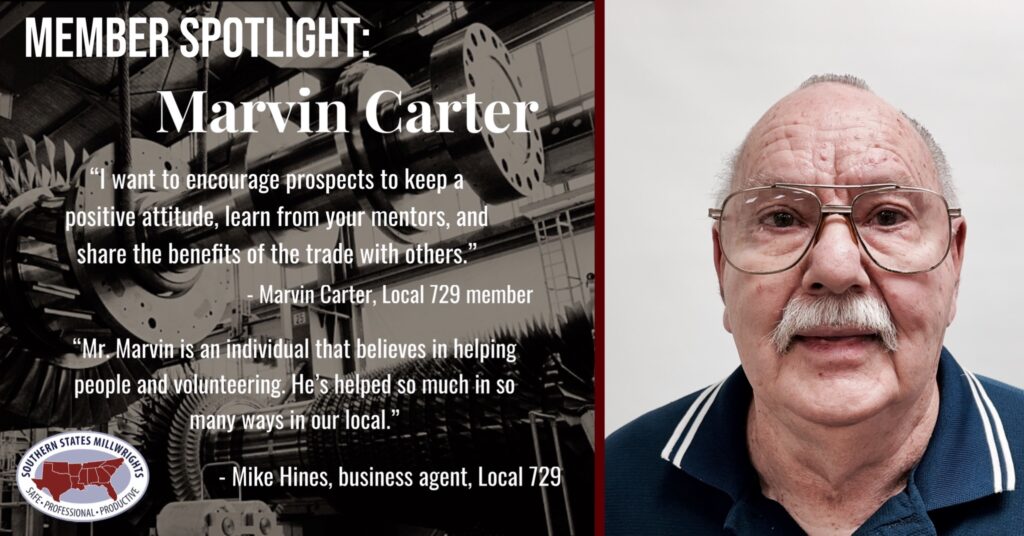 Local 729 member, Marvin Carter, began his journey in the trade industry as a millwright in 1965, after completing the machinist program at the Vocational Technical School in Baton Rouge, Louisiana.
In 1967, Carter started his career at Exxon Mobile as a mechanist, while completing the 4-year apprenticeship program to begin working as a millwright machinist. In 2011, Carter made the courageous decision to join the union as a millwright. His decision was influenced by his work experience and desire to expand his knowledge and further his education in the trade industry.
Local 729 business agent, Mike Hines, recommended Carter as the spotlighted member for December. "Mr. Marvin is an individual who believes in helping people and volunteering. He has volunteered and helped so many people, in so many ways from the time he was an auxiliary officer in Parrish, until now," Hines said. "He has helped with many events at the local and serves as a mentor to so many people. Local 729 appreciates Mr. Marvin for everything he has done and continues to do throughout Local 729. Mr. Marvin, thank you for being you."
Since retiring from working on his tools, the 78-year-old is still active serving at the Local 729 union hall, helping coordinate various projects and being a mentor for young men and women looking to break into the trade.
"I want to encourage prospects to keep a positive attitude, learn from your mentors and share the benefits of the trade with others," said Carter.
To learn more about how you can begin your millwright career, click here.