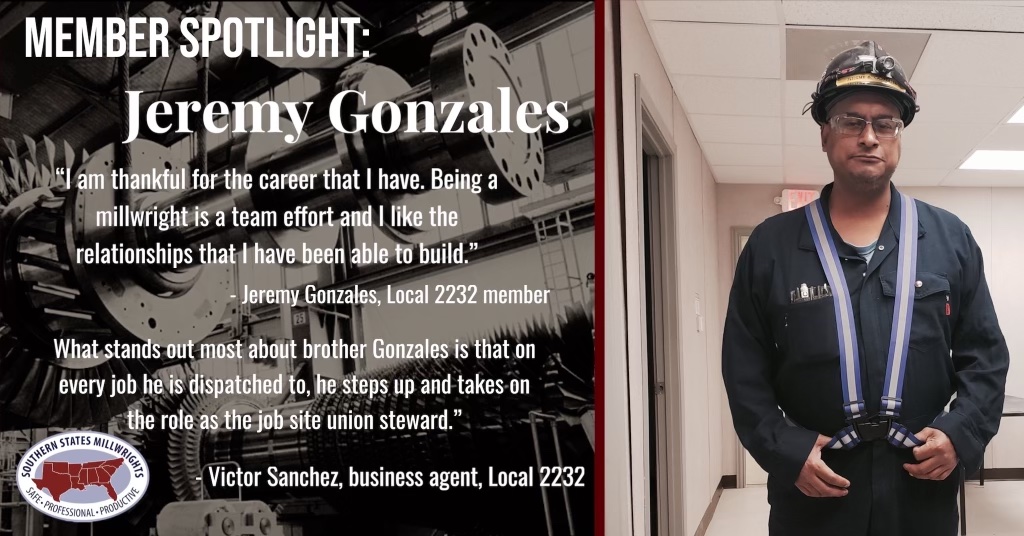 For the past 11 years, Jeremy Gonzales, a member of Local 2232 has dedicated himself to a career as a union millwright. Being a millwright comes with a lot of challenges, in which a lot of people do not talk about until they have walked in the shoes of a millwright. No job is ever the same and each day presents a slate of new challenges. Being a millwright is not for the faint of heart. But with a whole lot of faith and a lot of hard work, it is a rewarding career.
Each day, Gonzales wakes up and thanks God for another opportunity to continue doing what he loves to do. That is being a millwright.
"I am thankful for the career that I have," Gonzales said. "Nothing is going to stop me from doing what I do. Being a millwright is a team effort and I like the relationships that I have been able to build with my brothers and sisters in 2232."
Local 2232 business agents Monte Thompson, Victor Sanchez, and Dwight Murrah recommended Gonzales as the November spotlight member. No matter what challenges the workday might bring, Gonzales is dedicated to working and developing relationships with other brothers and sisters on the job. "What stands out most about brother Gonzales is that on every job he is dispatched to, he steps up and takes on the role as the job site union steward," said Sanchez.
Learn more about Gonzales through his answers to the questions below.
Q: What do you like most about being part of Local 2232?
A: My son once asked me the same question and I told him it was the closest thing to football for me. It's a team effort. We share blood, sweat, and tears together. We laugh and cry together in all types of conditions. It is truly a brotherhood.
Q: What are some challenges you have faced and how did you overcome them?
A: It has been a struggle at times having to sacrifice time with my family and miss family events. I have to remind myself that I am doing this for them.
Q: How did your previous experience(s) help you break into the millwright trade?
A: Before I knew what a millwright was, I worked as a turbine mechanic for GE and Siemens. That played a role in making me the millwright I am today. Throughout my millwright tenure, I have worked on all types of rotating equipment such as gas and steam turbines, pump alignments, recip and centrifugal compressors, fin fans, blowers, grout work, etc.
Q: Q: What do you feel are some perks of being a member of the UBC?
A: The friendships that you develop along the way. The brothers and sisters in 2232 have become like family to me.
"My advice to anyone wanting to join the millwright trade, is to do your research," said Gonzales. "Not everyone can work in these conditions, especially if you have underlying health conditions. Absorb all the knowledge you can and always remember to have patience. The most important thing is making sure you are taking safety measures on any job you are working on."
To learn more about how you can begin your millwright career, click here.