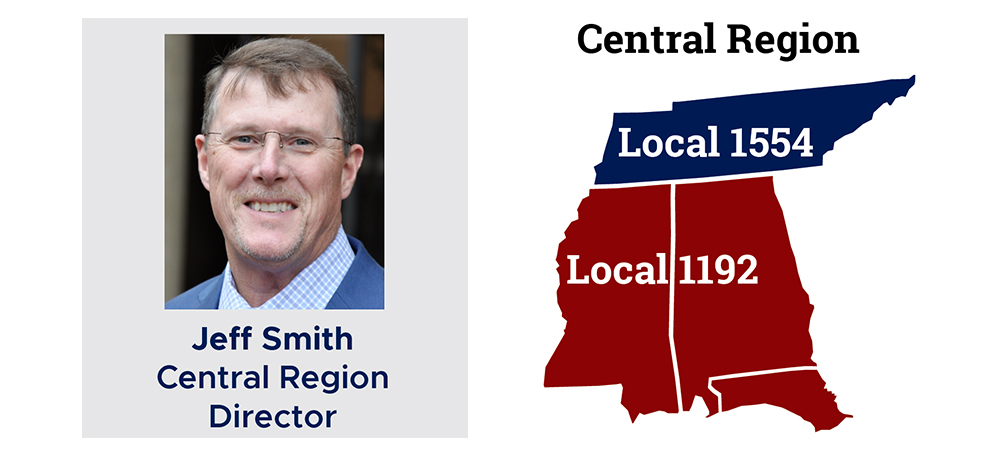 It has been a busy few months for the Central Region.
New members in the Central Region are needed as more working opportunities present themselves.
Millwrights are in high demand across our eleven-state footprint as we have a tremendous amount of work.
Please reach out to your business agent and put yourself on the out-of-work list if you are available for work. If you are traveling outside of your home local jurisdiction for work, check in with the local that has jurisdiction where you are procuring employment.
Please take advantage of all opportunities to enhance your skill sets through the training department.
The Central Region is working with the following contractors at the facilities listed below.
Alabama / Mississippi / FL Panhandle
 EC Gaston Plant:
APM – 10/10 to 12/5.
Day Zimmerman – 10/10 to 12/5.
Toyota Engine:
J&J Demolition has a project scheduled for September; however, a confirmed date has not yet been set.
Toyota Tupelo:
NKC is expected to have a shutdown in the fall.
Toyota Mazda:
Griffin Industrial has weekend work at MTMUS through the fall.
TVA:
APM has several jobs within the TVA gas fleet starting in September
Plant Barry:
APM Steam – Five millwrights needed. Starts Sept. 12 and lasts 18 days.
Plant Daniels:
APM Gas – 16 millwright opportunities for day and night shift. Starts Sept. 1 and lasts 35 days.
McAbee – Six millwrights needed. Starts Sept. 27 lasts 30-45 days. Two millwrights needed to start Oct. 10.
SIEMENS – 12 millwright opportunities available for day and night shift. Starts Sept. 27 and lasts 45 days.
APM Gas – Three millwrights needed to start Sept. 2. Job is expected to last seven days.
Packaging Corporation of America Jackson, Alabama:
CR Meyer – 16 millwrights needed with opportunities for day and night shift. Starts Sept. 14 and lasts seven to eight weeks.
Tennessee
Crain Nuclear/Williams will be performing MOV Valve work at Browns Ferry and Sequoyah Nuclear Plants. Three millwrights are needed that have had the Crain Nuclear MOV training.
H and H brown has a project start date for after Labor Day. About 20 millwrights are needed, as well as welders.
More work is on its way at the battery plant at GM Springhill with Barton Malow.
Barton Malow will need four to five millwrights for GM.
TVA Allen and Lagoon Creek has upcoming outages which will require 40 or millwrights for work in October 2022.
Palmer Contractors will be adding five millwrights for the Nyrstar Zinc plant in Clarksville starting right after Labor Day and running for approximately 30 days.
Work in Stanton for Ford's Blue Oval City looks to be starting right after the first of 2023, which should eventually employ up to 700 millwrights.
Work for Local 1554 looks to be very promising for next several years.