Local 2232 member Ben Higginbotham is a veteran, has managed labor for UPS, and was recently hired by the UBC as its national millwright and pile driver recruiter.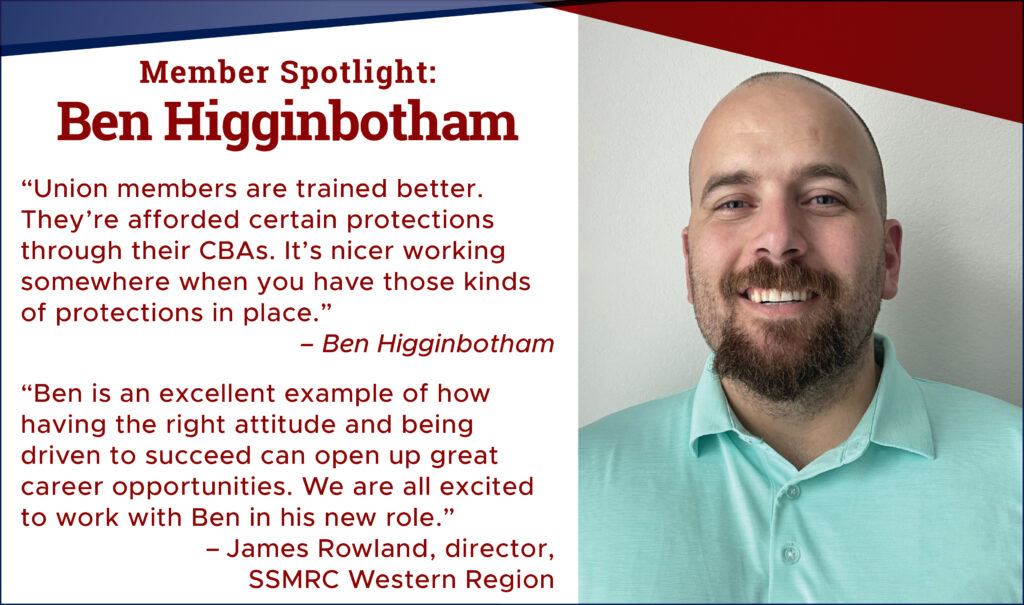 A member of Millwright Local 2232 since 2013, Ben Higginbotham will begin serving as national millwright and pile driver recruiter for the United Brotherhood of Carpenters and Joiners of America on July 19. Higginbotham has overseen labor distribution across the eastern United States for Universal Plant Services since 2019. In his new position, Higginbotham, a former Marine, will head recruiting and help manage the UBC Millwrights Veterans Program, which assists service members in transitioning from the military to millwright careers.
"Ben is an excellent example of how having the right attitude and being driven to succeed can open up great career opportunities," said James Rowland, director for the SSMRC's Western Region. "We are all excited to work with Ben in his new role."
Higginbotham talks about his career and his goals for his new job in the Q&A below.
Q: What drew you to a career as a millwright?
A: I was working in West Texas and I just wasn't happy there from a geographical standpoint. A guy who was in the Marine Corps with me saw on Facebook I had moved to Texas. He was in the local here in Houston and asked me if it'd be something I'd be interested in doing. I came in, took the evaluation, and it all worked out.

Q: Did you have a mechanical background?
A: I pretty much had to learn everything from the ground up when I got in. They started me as a pre-apprentice, and it was almost five years by the time I graduated from the apprenticeship. It seemed like a good career opportunity and like something I could learn, and I did.

Q: What do you like best about millwright work?
A: It's not the same thing every day. There's a lot of diversity to the work. It keeps things fresh and keeps things from getting monotonous. It is a fun job. You get to travel around, you get to work in different places, you get to work on different types of machines. I think the variety is what I liked the most.
Q: What industries have you worked in?
A: I have been strictly petrochemical, working mainly in the Gulf Coast region, throughout southeast Texas and Louisiana. I was fortunate that when I was on my tools, 99% of the time I slept in my own bed. I'm married, I have a 3-year-old daughter, and two dogs. I went home every night, and I was able to see my wife and kid.
Q: Tell us about the variety of the work you've done.
A: I've worked on pumps, I've worked on reciprocating and centrifugal compressors. I've worked on fans, expanders. I've done a lot of new equipment installation. As a millwright, there's just so much that goes into it. I've put my hands on a little bit of everything. I wouldn't say that I've mastered anything, but I can get by on just about anything.

Q: What kind of work are you doing now for Universal Plant Services?
A: I help staff jobs across the eastern region of the United States, from El Paso east. I oversee the manpower for UPS jobs in that jurisdiction. There are resource coordinators in different areas throughout the region, and they handle the day-to-day stuff, but I coordinate amongst all the offices to make sure the labor is spread out evenly and we're not hoarding talent in one area while leaving another one needing a specific skill set. I act as a mediator between the offices to make sure everybody's sharing resources and UPS as a whole is successful across the region and not just in one concentrated area.
Q: How long have you been doing that?
A: Since November of 2019.
Q: And when did you start working for UPS?
A: I started working for UPS as an apprentice in August of 2015. I just kind of worked my way up. When I got out of the military, I used my GI Bill and I went to the University of La Verne in La Verne, California, and got a degree in organizational management. So that was a nice thing to have on my resume. I left my tools to go into the office in March of 2019.
Q: Tell me more about your military experience.
A: I joined the Marine Corps in June of 2002. After graduation I got my first duty station orders in Twentynine Palms, California, with the 3rd Light Armored Reconnaissance Battalion. I deployed to Iraq in 2003 and 2004 with that unit. In 2006, I went to Weapons Field Training Battalion in Quantico, Virginia as a marksmanship instructor. I left there in 2008 to go back to Camp Pendleton in California with 1st Light Armor Reconnaissance Battalion, and I deployed to Afghanistan in 2010 with them. We came back at the end of 2010, and then I got out in May of 2012 and started going to school.

Q: Where did you grow up?
A: I grew up in Clarksburg, West Virginia, a little mountain town in north central West Virginia.

Q: And did you leave there for the military?
A: I left for training when I was 17. I graduated high school on June 1, and on June 2 I got on the bus to go to boot camp.
Q: And how did you end up in Texas?
A: While I was going to school. I linked up with an organization called Recruit Military, and they basically help veterans write resumes and find employment. They helped me write my resume, and then they shot my resume around. It ended up getting picked up by a small company in West Texas that did pumpjack servicing in oil fields.

Q: To you, what are the biggest advantages to union membership?
A: Union members are trained better. They're paid better. They have better benefits. They typically have a better quality of life. They're afforded certain protections through their CBAs in their local contracts. It's nicer working somewhere when you have those kinds of protections in place.

Q: What are your goals in your new job?
A: I really want to expand the Millwright Veterans Program. Right now, it's in two bases, Fort Hood in Texas and Fort Drum in New York. I'd really like to expand that to some different bases to give more veterans the opportunity to take advantage of this program so when they exit the military, they have a strong career. When I got out, I had no idea what I was going to do. I didn't have anything like this. So my transition was probably more difficult than it needed to be. I'd also like to get the program seen on a bigger stage. I'd like to get more contractors involved in the program. This is good for the contractors as well. Veterans have a lot of intangible skills. On average, veterans are going to be more disciplined, they're going to take the initiative, they know how to be punctual, they know how to present a professional appearance, they know how to follow orders, and they already have a foundation to lead.