Working for EthosEnergy, Local 2232 member Mark Jones has advanced from forklift operator to a vice-president position overseeing 300 employees.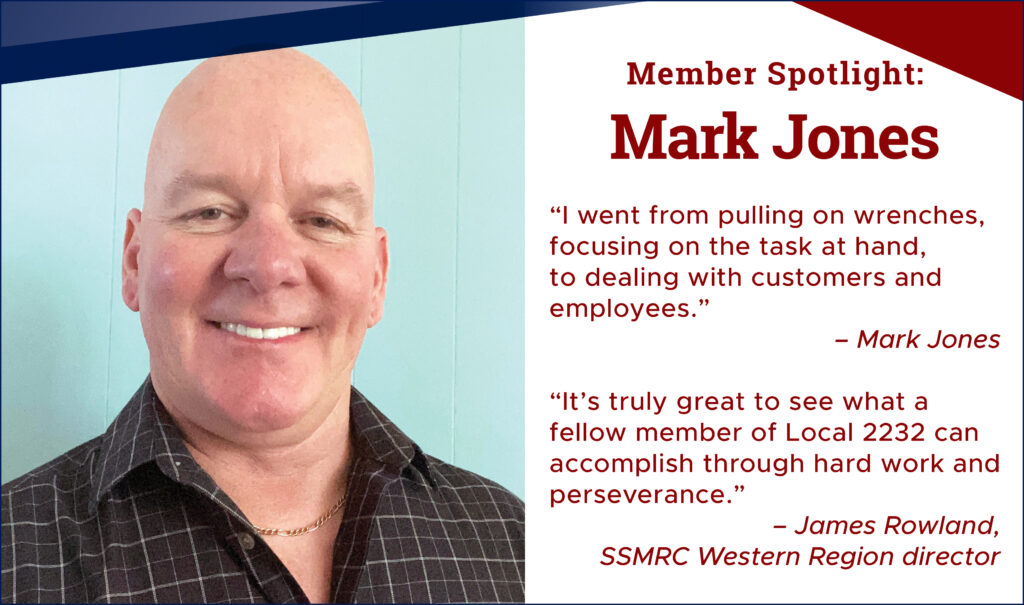 Mark Jones began working for EthosEnergy in 1997 as an apprentice and forklift operator. Last year, EthosEnergy promoted him to senior vice president of union field services – a position that involves overseeing 300 employees at three offices in Texas and California.
"I went from pulling on wrenches, focusing on the task at hand, to dealing with customers and employees," Jones said.
Jones has been a member of Millwright Local 2232 since 1992, and he became a journeyman in 1996. In his 24-year career with EthosEnergy Field Services, which provides maintenance, repair, overhaul and upgrade of rotating and reciprocating equipment, he also has served as a field manager and vice president of Gulf Coast operations. Jones currently focuses on developing multi-tiered service offerings that provide value to customers through flexibility and a variety of product options. Based in Pasadena, Texas, Jones also oversees all operations – financial, safety, and execution of field services – for offices in Santa Fe Springs, California, and Fairfield, California.
Jones also worked for Atlantic Plant Maintenance and Universal Plant Services when he was an apprentice. His millwright experience includes working on conveyors and gas and steam turbines in addition to working in petrochemical facilities and refineries. He has performed machinery overhauls, repairs, and maintenance. All this experience is relevant to the work EthosEnergy does, and Jones said his field skill set helps him in his current position.
But he's also learned management and business skills along the way, as he transitioned from repairing equipment to handling important financial details, safety programs, and other responsibilities that go into running a large business.
Being a union member has given him an advantage, Jones said. At the United Brotherhood of Carpenters International Training Center in Las Vegas and at local training centers, he took supervisor, collaboration, and other management courses. He also interacted with people who were doing the work he does now and learned from their insights.
"It's given me a training advantage that a non-union employee wouldn't have had," Jones said. "Ninety-five percent of it would have been on-the-job training if I hadn't been a union member."
James Rowland, director of the SSRMC's Western Region, said working with Jones over the years has been a pleasure. "It's truly great to see what a fellow member of Local 2232 can accomplish through hard work and perseverance," Rowland said. "I cannot express the value of the partnership between Mark, Ethos Energy Field Services, and the SSMRC."