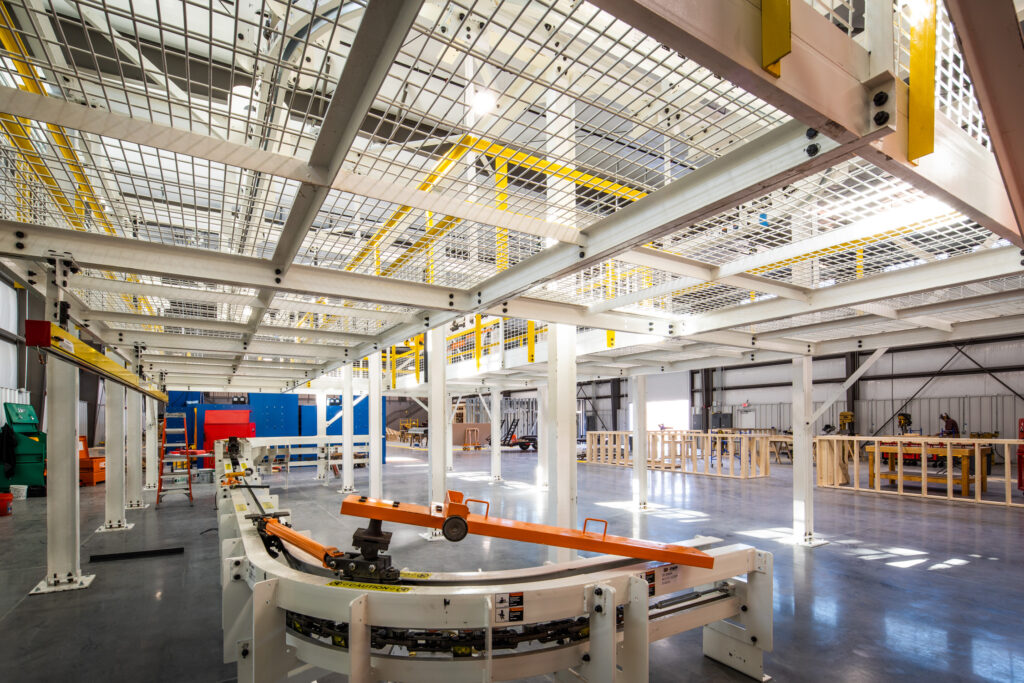 The new millwright and carpenter training center sets the stage for state-of-the-art training and new industry partnerships. Take a photo tour here.
A new resource for industrial-construction and maintenance manpower is now a reality in Charlotte, North Carolina. A 25,000 square-foot training center is up and running on nearly six acres of land at 1928 Back Creek Drive, sitting east of I-85 in the University East Business Park. It's already hosting both training classes and construction industry events.
The facility is a beautiful, safe, secure structure with maintained grounds and green spaces. The interior includes 5,500 square feet of classrooms, computer labs, and instructor offices. The center also houses offices of Millwright Local 1263 and Local 312 of the Southeastern Carpenters Regional Council (SECRC).
"I'm excited about having a training center that's centrally located," said Shon Douglas, Carolinas and Georgia training director for the Southern States Millwright Regional Council. "I'm also looking forward to bringing in new trainees. Opportunities for millwrights in this area are through the roof. There are a lot of power plants and food-and-beverage facilities."
The expanded training capacity the center provides will increase the number of highly skilled millwrights available throughout the Carolinas, said Logan Brown, Eastern Region director for the SSMRC. "It will provide more opportunities for people to get the skills they need in the geographic areas where the work is going on."
The Training Center will prepare a local workforce of professional millwrights and carpenters with the skills needed to create an excellent quality of life for themselves and their families. The facility includes:
5,500 square feet of classrooms, computer labs and instructor offices
Two mechantronics/robot stations (for training in automation);
State-of-the-art welding shop with 10 clean-air welding booths; and
A conveyor prop for training on floor conveyor and power and free monorail systems used in many manufacturing processes such as automotive and food and beverage.
Millwright coursework includes:
Compressors and Pumps
Conveyors
Flowserve
Gas and Steam Turbine
Machinery Alignment
Welding
Mechanical Print Reading
Safety training is also a top priority and includes:
OSHA 10 and 30
Confined Space
Fall Protection
Hazard Communication
AED/First Aid
Soft-skill training is also offered on topics such as
Leadership
Jobsite Communication
Human Performance
Because of COVID-19 and in response to the critical need to protect patients and staff at healthcare facilities during construction work, there is also a comprehensive mockup to hone skills in Construction ICRA (Infection Control Risk Assessment).
Why this training center matters to the Charlotte community
This training facility prepares men and women for careers in the Charlotte area, which will funnel more dollars into and builds long-term residency in the community. Not only is our vision to establish a home base to help local youth develop career skills, but we also have the capability and structure in place to provide job placement for graduates of our apprenticeship program.
When union millwrights and carpenters enter an area, we also strive to become an active part of the community. We offer our facility to be a community resource for meetings, events, festivities, etc. Also, when we enter a community, we adopt the local middle and high school and work with staff and students on a variety of fun and educational projects. The benefits of this professional carpenter and millwright training center in Charlotte will prove to be both quantifiable and intrinsic when (1) local hands keep local money circulating in the community; and (2) when tomorrow's leaders learn a skill set that propels them into an excellent quality of life for themselves and their families.
Get a look at how the training center came to be!
Here's a recap and photo album of the center's construction, and here's a time-lapse video of the build.