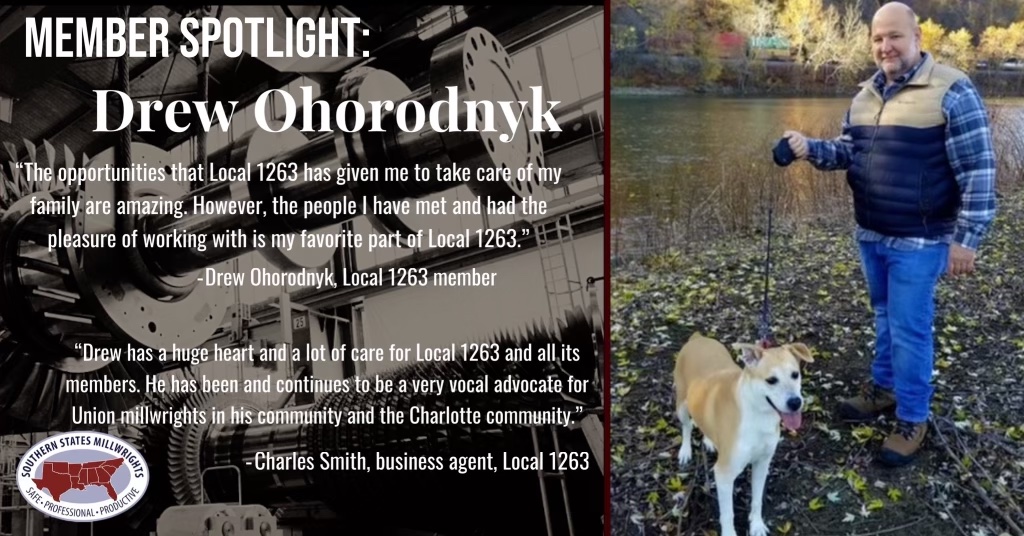 Twenty-four years ago, in the state of Pennsylvania, Drew Ohorodnyk began his journey as a millwright and never looked back. Throughout the years, Ohorodnyk has worked extremely hard to advance in the trade, where he has been presented the opportunity to use his skills to teach others the trade that has given so much to his family. In 2020, he moved to Charlotte, North Carolina, where he is currently a part-time millwright instructor, while still working on his tools.
Being a part-time instructor and working in the trade demands a lot of time, however during his free time, Ohorodnyk enjoys serving those in his community, cooking, hunting, fishing, and spending time with his wife looking for a bargain at yard sales on the weekend.
Local 1263 business agent, Charles Smith recommended Ohorodnyk as the spotlighted member for January. "He came to us from Pennsylvania almost 2 years ago with 20 years of experience as a millwright with the United Steelworkers Union," Smith said. "He has been a job steward for us, as well as a great mentor to the apprentices on his site. His mentorship and relationship with the apprentices are what has helped him excel as a part time instructor with the SECTT Millwright Training Program. Drew has a huge heart and a lot of care for Local 1263 and all its members. He has been and continues to be a very vocal advocate for union millwrights in his community and the Charlotte community. He has established great relationships with local programs in his community to help young people know that the millwright trade is the way to go. He is a great asset to the brotherhood and wants to see our membership and work opportunities grow in the Carolinas."
Learn more about Ohorodnyk through his answers to the questions below.
Q: Most challenging thing about being a millwright?
A: Long absences away from home and family at times. It can be challenging but very do-able.
Q: Each day is different; how do you overcome adversity and adjust to the ever-changing conditions that come with being a millwright?
A: There is always adversity on the job as a millwright. I have realized that you should look at adversity as a challenge and meet it daily. You never know what kind of climate or working conditions you will be in, and they can be challenging at times.
Q: Describe your everyday job:
A: Describing my everyday job is difficult because we work in so many different areas. It can be a car plant, nuclear facility, paper mill or new construction/installation of machinery. Although, my days usually always start the same. I always arrive 15 to 30 minutes early to catch up on anything that may have changed from the day before. Most days start with a safety meeting and job assignment. When I'm teaching, I arrive early to open the building and get ready for the day.
Q: What do you like most about being part of Local 1263?
A: The best part of being a member of Local 1263 is a toss-up for me. The opportunities it has given me to take care of my family are amazing. However, I might have to say it is the people I have met and had the pleasure to work with on different job sites. I've made some good friends out there. I have also learned a lot from the people I have met along the way.
Q: What made you decide to join and work as a millwright?
A: I had the opportunity to become a millwright apprentice 20 plus years ago, when I was part of the United Steelworkers in Pittsburgh, PA. I really enjoyed being a millwright and thought I would finish my career there. Then 2020 happened. My whole family moved to Charlotte, North Carolina. After moving to Charlotte, I learned about Local 1263 and joining the SSMRC has been one of my best decisions.
Q: What are your long-term goals in this field?
A: I would like to become a full-time instructor and retire from the union in about 10 years.
Q: What has your experience been like being a part-time instructor?
A: I have been blessed with the opportunity to be a part-time instructor in Charlotte. This is something I would really like to continue doing. I consider it a privilege to be able to teach these individuals and help them build a career that will provide for them for the rest of their lives.
Q: When you wake up every morning and get ready to start the day, how do you approach the day?
A: First, I thank God for letting me see another day. My daily goal is to help someone in one way or another.
Q: Favorite job you have worked?
A: My first job with the union is one of my favorites. It was a glass plant rebuild. I got to see six different unions from different trades come together and work for a common goal.
Q: How did you learn about the millwright trade?
A: I learned about the millwright trade when I worked in the steel industry. At my first opportunity, I applied for an apprenticeship.
Q: What do you feel are the perks of being a member of the UBC?
A: There are some great perks to working in the UBC. It allows you to travel to different places and meet many people, while giving you many opportunities to advance in your career.
Q: What advice would you give people looking to become a millwright?
A: I encourage as many people as I can to become a millwright. You can start earning a paycheck while you are learning. You will not have tuition bills when your apprenticeship is done, and you will have a rewarding career ahead of you. Your skills will always be in demand.
To learn more about how you can begin your millwright career, click here.