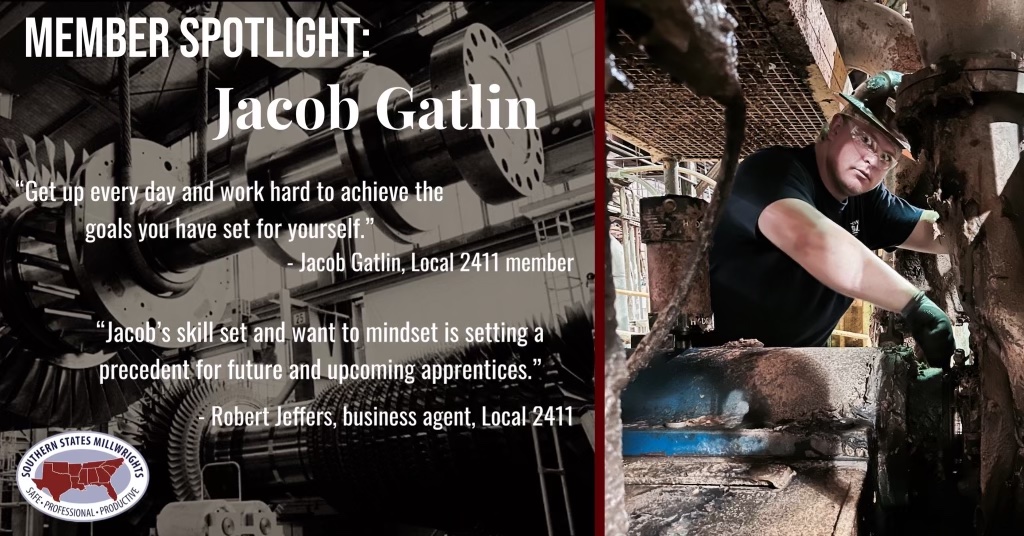 The term "millwright" is more than just a title given to someone who works in the construction industry. It is a word that describes hard work and the brotherhood between individuals alike.
Jacob Gatlin, a member of Local 2411 and 2nd year apprentice millwright starts every day with a "go get 'em" attitude, working hard to achieve the goals he has set for himself as a young millwright.
Gatlin is using his millwright skills on a job working for WW Gay in Florida. Working as a millwright, each day presents a new challenge. You never know what challenges the workday might present. "I start everyday with the same attitude and tell myself I am going to have a great day," Gatlin said. "No day is ever the same, on a day-to-day basis I could be rebuilding a pump, changing out a motor or gearbox, or doing an alignment."
Local 2411 business agent, Robert Jeffers, recommended Gatlin as the October spotlight member. "Jacob came into the program with a great attitude and a worker's mentality," Jeffers said. "His drive has gotten him planted with a position at WW Gay and they currently have him on a service truck. Jacob's skill set and want to mindset is setting a precedent for future and upcoming apprentices."
Learn more about Gatlin through his answers to the questions below.
Q: What do you like most about being part of Local 2411?
A: The family like bond that you have with other members. Everyone has each other's back when you need them.
Q: What made you decide to join the union and work as a millwright?
A: My cousin, Levi, also works in the trade, and I liked the idea of being able to work along side him. While talking with Levi and searching for a long-term career, I learned more about the millwright trade and the endless opportunities the trade has to offer, with great benefits.
Q: Were you able to stay close to home with this trade?
A: There are several local work opportunities, so I can work locally and be at home every night.
Q: Q: What do you feel are some perks of being a member of the UBC?
A: The friendships that you develop along the way. Whatever goal you are trying to achieve, there are people who will always have your back and help you achieve those goals.
If you are looking for a career in the millwright trade, Gatlin has some advice to help you be successful. "Get up every day and work hard to achieve the goals you have set for yourself," Gatlin said. "The world does not owe you anything and neither does anyone else. Be the best that you can be, don't take shortcuts, and listen to what people have to say."