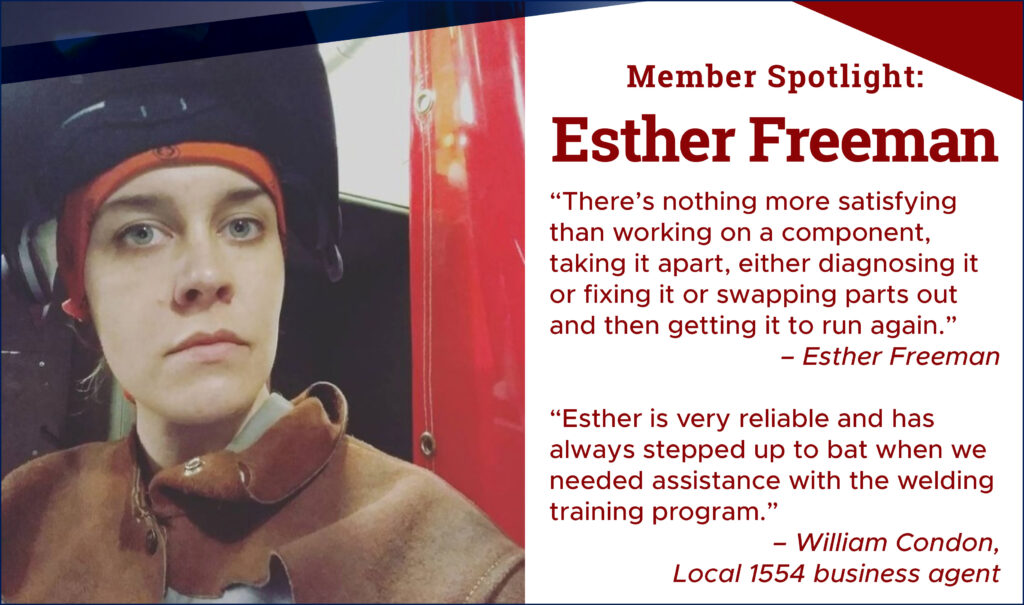 Esther Freeman has always had a penchant for the mechanical. She enjoyed working on cars growing up. But her welding career started with art.
"I originally got into welding through sculpture," Freeman said. "I loved foundry [a process in which castings are produced by pouring liquid metal into a mold]. So I did a lot of casting and worked with metal, concrete, and wood."
Freeman studied sculpture at an arts college, then went into the trades for financial stability. She expanded her welding skills at a technical college before working in fabrication and heavy industrial settings. Freeman was a welding instructor at a technical college in Tennessee when Steve Williams, a business agent for Millwright Local 1554, paid a visit in 2017, just as the welding school was shutting down. He suggested Freeman become a millwright.
"I already wanted to join the union," Freeman said. "And the more I learned about the millwrights, the more I thought it would be a good fit."
So she went for an interview at Local 1554. In December of 2020, Freeman became a journeyman millwright. She's also a part-time welding instructor at the millwright and carpenter training center in Nashville, where she lives.
Learn more about Freeman and her journey by reading the Q&A here.